6,000 Cyclists Ride in 2015 Pan-Mass Challenge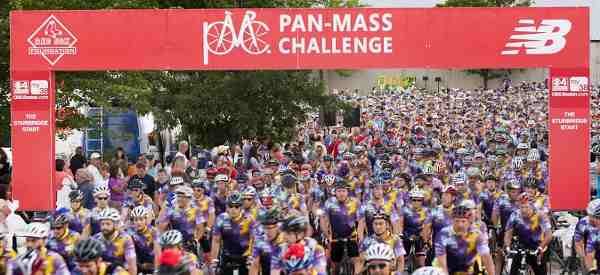 The Pan-Mass Challenge (PMC) kicked off the bike-a-thon's 2015 ride weekend on Saturday, as cyclists from 40 states and five countries crossed starting lines in both Sturbridge and Wellesley, Massachusetts.
A total of 6,000 cyclists, joined by Massachusetts Governor Charlie Baker and Boston Mayor Marty Walsh, ride across Massachusetts with the collective goal of raising $45 million to support adult and pediatric patient care and cancer research at Dana-Farber Cancer Institute (DFCI) through the Jimmy Fund.
It will help bring the PMC's 35-year fundraising total to a half billion dollars raised since the organization's inception in 1980.
[ Smart Cycling: 10 Tips for Safe Riding ]
During PMC weekend, cyclists from across the world, ranging from ages 13 to 82, choose from 12 different routes of varying mileage that run through 46 Massachusetts towns designed to cater to all levels of cycling strength and fundraising ability.
Many participants ride in honor of a family member or friend lost to, or being treated for, cancer, as 100 percent of every rider raised dollar goes directly to DFCI through the Jimmy Fund.
The weekend is especially meaningful to the 600 riders and volunteers whom are cancer survivors or current patients, considered "Living Proof" of the PMC mission to find a cure.
The Pan-Mass Challenge (PMC) is an annual bike-a-thon.