AXE Apollo to Send Fans to Space Camp
In conjunction with the AXE Apollo Space Academy (A.A.S.A.), which will send 22 fans from around the world to space, the AXE brand is launching a new retail-focused program that will allow seven guys and/or girls to attend Space Camp for a chance to participate in the trip of a lifetime.
From now through July 2013, consumers have a chance to go to Space Camp by entering a code online. Codes will be available upon purchase of a full-size AXE product and need to be entered at www.axeapollo.com to participate; winners will be selected on or about August 9, 2013.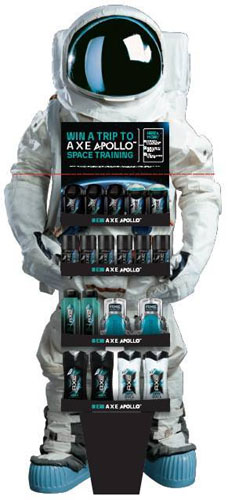 The seven winners will be then eligible to attend the AXE Apollo Space Camp in Orlando, Florida, where one finalist will be randomly selected for space travel.
[
Also Read
:
AXE Plans to Send Fans into Space with Apollo
]
For more information about the AXE Apollo Space Academy, how to enter and to view a list of participating retailers, you can visit www.axeapollo.com.
AXE is a personal care brand for men. The Unilever-manufactured brand is available in a line of deodorant body sprays, deodorant and anti-perspirant sticks, shower gels and hair care products.