Bajaj Auto Releases New Look Pulsars TV Ad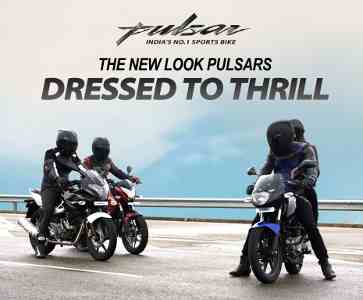 The ad showcases a difficult-to-perform and capture, 'Kangaroo' stunt. In fact, it'll have you take note of the Pulsar white variant (which is contrary to the usual black bikes from Pulsar) which makes its presence felt in 45 seconds.
To lay focus on individual colour variants, there are three 15-seconders that will make their appearance on-air shortly.
"We are confident that the new avatars of Pulsar will appeal to the new age biker, who is seeking a bike that not only offers great technology, but also unparalleled aesthetics. The television commercial showcases the stunning new looks and acknowledges its inspiration," said Sumeet Narang, VP (Marketing), Bajaj Auto.
The commercial was launched first on social media to the Pulsar community on Facebook.
The film is showcased on Pulsar site. The entire range can be checked out with a user controlled 360-degree view of the 150, 180, 220 and 200NS.
Bajaj Group's flagship company, Bajaj Auto, is a two and three-wheeler manufacturer in India.