California Evacuation: How to Make an Emergency Kit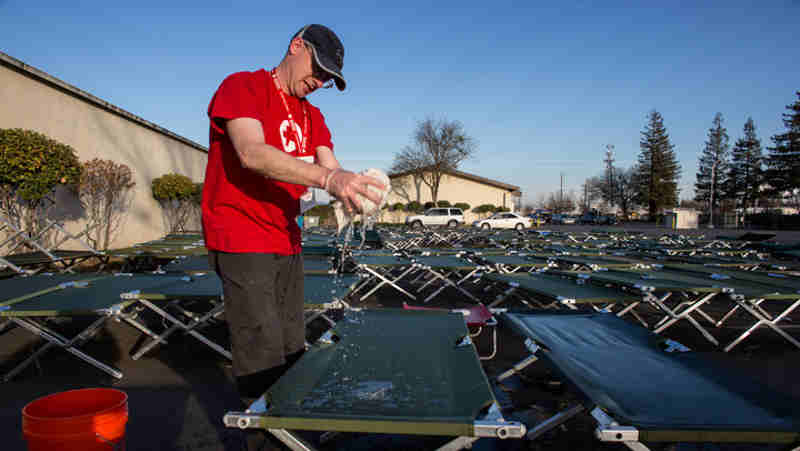 The American Red Cross continues to feed and shelter people in California where authorities have lifted the mandatory evacuation order for almost 200,000 people near the Oroville Dam spillway.
While the risk has been reduced, the region is expected to see several inches of rain in the next few days. Red Cross workers will remain in place in the event that anyone has to evacuate their homes again.
Local officials have also stated that the area remains under an evacuation warning – and that residents need to be ready to leave their homes again if the situation changes.
[ #CalExit Vote: California Gets Ready for Freedom from the U.S. ]
As of Tuesday night, more than 1,500 people remained in 16 Red Cross and community shelters. While many people returned home, some decided to stay in the shelters for now.
Emergency Kit
With the situation still uncertain for many who live in the area surrounding the Oroville Dam, the Red Cross urges everyone to follow any evacuation orders and Be Red Cross Ready – build a kit, make a plan and be informed. Pack your kit in an easy-to-handle container and include the following:
Flashlight and extra batteries
Battery-powered radio to stay informed and cell phone with charger
First aid kit
Medications – a 7-day supply – and any medical items needed
Sanitation and personal hygiene items like a toothbrush, soap and shampoo
Copies of important papers such as deed/lease to your home, passports, birth certificates, insurance policies, proof of address, medication list
Family and emergency contact information
Extra cash
A map of the area
Extra clothing
Pillows and blankets
More items to consider include medical supplies such as hearing aids, glasses and contact lenses, baby supplies, pet supplies and an extra set of car and house keys.