Celebrating Birthday of Homeless Pets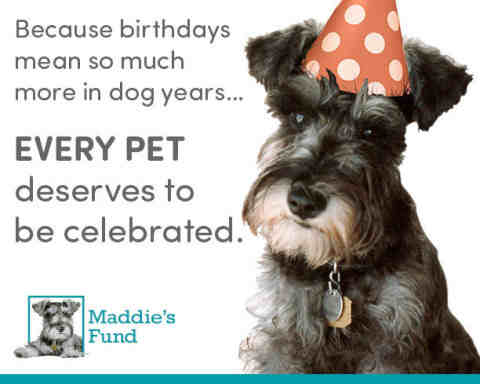 A virtual birthday celebration for homeless pets is being hosted by Maddie's Fund this week. The public is invited to join the fun by sharing the Maddie's Fund graphic and tagging their own celebration photos using #HappyBdayHomelessPets and #ThanksToMaddie.
This celebration is in honor of the Fund's namesake, Maddie, whose spirit and inspiration have positively impacted the welfare of over 1.3 million U.S. dogs and cats.
[ Can Connected Collar Keep Your Dog Happy? ]
"Animal lovers everywhere are encouraged to share the graphic and salute the joy their own pet provides everyday with an extra hug and smooch," says Sharon Fletcher, Maddie's fund marketing & communications director.
Maddie is the sweet and spunky Miniature Schnauzer who brought her family tremendous joy and inspired them to start the non-profit organization Maddie's Fund, which works for the well-being of companion animals. Her actual birthday is on April 26th.