Chandanwari CGHS Residents File New Court Case to Stop FAR Construction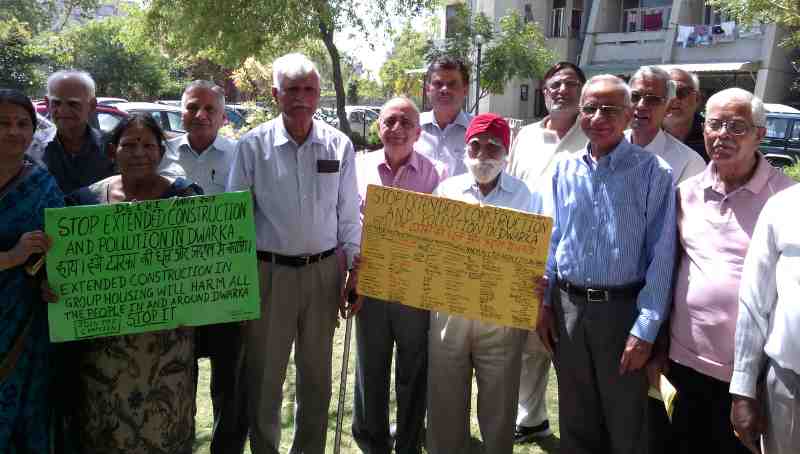 Chandanwari CGHS Residents File New Court Case to Stop FAR Construction
With their persistent protests, the residents of Chandanwari Apartments have succeeded to stop illegal FAR construction in their society.
September 15, 2019
By Rakesh Raman
After facing some initial hiccups in the Dwarka Court, the residents of Chandanwari Apartments (Chandanwari CGHS), Sector-10, Dwarka, have filed a new case to get the floor area ratio (FAR) construction stopped in their housing society. 
As FAR construction in occupied cooperative group housing societies (CGHS) is a totally illegal activity, the corrupt managing committee (MC) members are planning or carrying out FAR projects in connivance with dishonest government officials and cunning local politicians in Delhi.
Although the Chandanwari residents have been successful to stop FAR which could not commence during the past one year despite the attempts by the MC, now they have filed the case [Filing Number: 4719/2019] in the court of District and Session Judge, South-West DWK. The last hearing on September 9, 2019 could not take place because the judge was on leave.
The petitioner members of Chandanwari seek a permanent injunction to stop FAR expansion plan in the existing flats of the society. The petitioners have argued that FAR project is illegal because it violates many existing laws and bylaws. 
In their petition, the aggrieved members of Chandanwari have stated that about 90 of the 255 members oppose FAR expansion plan. Even the majority of the members in a housing society cannot decide in favour of FAR construction because it violates many existing laws.
MAJORITY CANNOT DECIDE FAR CONSTRUCTION
The decision of the majority cannot be imposed on other members when it involves huge amount of money, or the majority decision contravenes any existing law, or it abuses the fundamental rights of a citizen, including the right to live in a clean, peaceful environment guaranteed under Article 21 of the Constitution. 
So, the majority of an inconsequential entity such as a housing society cannot enjoy supreme powers to violate the extant laws. The law is very clear about this fact. 
A project like FAR can only be started when all members of a society agree for it. It is illegal if the MC of a society starts FAR without taking 100% explicit (written) consent from all members of society. 
The Delhi Apartment Ownership Act, 1986, for example, stipulates that the MC of a housing society cannot even remove or add a brick in the existing structure without taking approval from all the members.
The Section (4)(a) of the Delhi Apartment Ownership Act states that
"The percentage of the undivided interest of each apartment owner in the common areas and facilities shall have a permanent character, and shall not be altered without the written consent of all the apartment owners."
Besides Article 21 and Delhi Apartment Ownership Act, FAR construction breaks many more existing laws such as the Unified Building Bye Laws (UBBL), Delhi Fire Service (DFS) Rules, National Building Code (NBC), Easementary Rights, Delhi Preservation of Trees Act, and Maintenance and Welfare of Parents and Senior Citizens Act. 
Obviously, FAR construction in occupied housing societies – where men, women, children, and senior citizens are living – is an illegal activity. Even one determined member can get FAR construction stopped in a housing society. The majority argument floated by the corrupt MCs is totally invalid.
DDA CORRUPTION AND FAR CONSTRUCTION
The FAR construction in Delhi is part of a citywide criminal racket which is being run by the MCs of housing societies in connivance with top bureaucrats at the Registrar Cooperative Societies (​RCS​) of Delhi Government, the Delhi Development Authority (​DDA​), Delhi Fire Service (​DFS​), Delhi Urban Art Commission (DUAC), and some of the police officials of Delhi Police.
The total corruption money involved in FAR projects is estimated to be thousands of crores of rupees while some MCs have even joined hands with builders' mafia to terrorize residents who oppose FAR construction. 
Although the local administration including the Lt. Governor (LG) of Delhi Anil Baijal (who is also the chairman of DDA) should not allow FAR in occupied housing societies, since the Delhi administration has completely collapsed, the aggrieved residents have to go to courts for getting FAR stopped in their societies. In the absence of law and order and because of rampant corruption in Delhi, the MCs of housing societies are committing crimes blatantly without any fear.
It is observed that mainly DDA and society MC members who operate as organized gangs are leading the FAR-related criminal enterprise. As the number of such criminal gangs is increasing rapidly in Delhi, these days the S-Gang of Sampathkumar is among the most notorious gangs which operate in housing societies.
After cheating the members in fraudulently held General Body Meetings (GBMs), the corrupt MC members with the help of criminal architect firms / builders submit flawed FAR expansion plans in DDA.
Since DDA officials are heavily bribed, they blindly clear the drawings and expansion plans even though they violate the UBBL and the Master Plan for Delhi-2021 (MPD-2021). Then DDA presses DFS and DUAC to approve the plans without raising any objections that could stop illegal FAR construction. The entire criminal operation is run so secretly that DDA even refuses to share the expansion plans submitted by the MCs through their architect firms.
In the case of Chandanwari Apartments, for example, I had to strive to get the drawing references (DW10/0521/18-19) submitted through an architect. While DDA had refused to share these details, the Chandanwari MC did not disclose this information to all the members. 
Now, the Chandanwari residents who oppose FAR construction will get the drawings examined to prove that these are faulty drawings which cannot be used to start FAR construction.
LEGAL CASE TO STOP FAR CONSTRUCTION
But if Chandanwari residents could file a court case, can residents in other societies file a similar case? It is not easy. The residents who want to take the legal route to stop FAR construction will have to work very hard.
They will have to spend months to complete their documentation of correspondence with different authorities and the MC of their society. These documents will include representations written in perfect administrative parlance and a number of RTI applications.
People from all over Delhi contact me to take my advice to stop FAR construction in their housing societies, as I run an anti-corruption community court "Clean House" to report about crime and corruption in Delhi's housing societies and also write extensively on FAR issues. 
I have observed that almost all the people who want to stop FAR construction cannot write even a single letter correctly. They neither understand administrative procedures nor do they know proper English language. 
As a result, they are unable to complete their documentation that is required to file a court case. While it is extremely difficult to find a good lawyer, even a good lawyer will not be able to help you win if your documents are not complete and proper. I know cases which were lost in court because of poor documentation and incorrect petitions written by incompetent lawyers.
As part of my job, I interact with dozens of lawyers. I have experienced that most lawyers cannot use proper English to speak and write their petitions. They are also very weak in understanding the law and specific statutes in a particular case. Their legs start shaking when they stand in court room to argue your case in front of a judge. 
Such lawyers cannot win your case. If you meet 100 lawyers and carefully evaluate their professional record, you will probably get only one lawyer who could handle your FAR case. Moreover, the Indian courts are always overcrowded with a huge pendency of 33 million cases.
As a result, the decisions of courts are either inordinately delayed or lack justice. There are chances that FAR construction will be complete in your society but the court decision will not come. So, the court should be the last option for you.
PREPARATION FOR COURT CASE
If you want to go to court, you should have at least 100 pages of your complaint correspondence with different authorities before even thinking to file a case. The progress of your court case will depend on the quality and quantity of your documents. 
Remember, if you file a simple case just to stop FAR, chances are you will lose the case. Therefore, your case has to be multi-dimensional covering diverse legal aspects and different respondents. The main objective of your case should be to get the MC members and their accomplices jailed.
In all probability, your case will go to the high court since it involves the distortion of government policy by MCs and protection of your fundamental rights. You should have a budget of at least Rs. 10 lakh for your case.
Since you are fighting your case against the corrupt MC members, criminal builders, and bribed bureaucrats, you must know that it will be extremely difficult for you to win in the court. 
Your MC will always try to show it as a dispute between MC and the society members so that the case runs only at the RCS court because the MC can easily bribe the RCS officials to win the case. You should take into account all these factors for preparing your court case to stop FAR construction. 
Moreover, the members who oppose FAR in a housing society get all types of threats from the gangs of MC members. These threats include false police complaints against you, legal notices, and expulsion notices to get you expelled from the society. 
If you still want to oppose FAR in your society, you should stay united and the maximum number of members should sign all representations. As this is an extremely difficult battle, you should make a dedicated team of about 10 members who should share responsibilities of the activities to stop FAR. 
The housing societies where only a couple of members are working to stop FAR may not succeed. You can even get your educated children involved in the work and hold regular (say, weekly) meetings to monitor the progress of your work. Courts can help those who help themselves.
An important component of your fight will be regular field demonstrations in front of your society or at other places. In these peaceful demonstrations, members of your society should hold protest placards to show that they oppose FAR construction and pollution in their building.
With all this systematic campaign and subsequent legal recourse, you can hope to stop FAR construction in your society. As there is a huge opportunity for corruption in FAR projects, most corrupt MC members will start FAR construction despite your opposition. 
So, you should chalk out a workable strategy to stop FAR if it gets started in your society. Most of you may be knowing that in a similar case [W.P.(C) 286/2018], the Delhi High Court has stopped FAR construction at R.D. Apartments of Dwarka.
ATTEMPT TO GRAB YOUR FLAT
A large number of residents who oppose FAR think that it is a mere construction project that their MC is planning. They do not realize that they are dealing with scamsters who work under the garb of the MC members.
In fact, in most cases, the FAR scheme is a property grabbing crime that MC members commit in collusion with builders' mafia. The MC members deceptively club FAR construction with building repairs so that the members who do not opt for FAR must pay for repairs. 
But the repairs amount that they demand is so high that it covers the construction cost as well. So, practically all the members in a society will be paying for FAR construction. It will begin as a construction project, but it is deceptively designed to illegally grab your flat.
Initially, the MC of a housing society will demand a few lakh rupees – say, Rs. 5 lakh – from each member with the promise to complete construction in about 2 years. However, when the construction begins, the MC will start demanding more money under different pretexts such as construction cost escalation while the construction will keep happening for even 5 years or more.
The members who refuse to pay more money will get expulsion notices and in some cases they will not be allowed to enter their own flats. Since RCS officials are bribed by the MCs, they will send you show cause notices for expulsions from your own flats. It is already happening.
Thus, you will be fully trapped. You will neither be able to live in your flat nor will you have enough money to buy a new flat. Tenants will also not like to live in a ruined building which is under construction.
Since MCs have secret arrangements with vulture builders, they will force you to sell your flat at half the price of the actual market value. In the crime world, this is called distressed sale when you have no other option but to sell your property at a dramatically lower price. In this fraud, you will lose your flat while the MC members and builders will share the loot. 
If you want to save your flat from the criminal claws of your MC members, you must not accept FAR proposal and do not pay even a single penny for FAR construction or repairs. The message for you is very clear: Nip the evil in the bud. Are you ready?
Note for Residents: The honest residents / members who want to oppose FAR boldly and save their flats from the criminal MCs will have to openly raise their voice against the crimes and corruption of their MC members. If you want my help in this cause, you can always contact me at my address or email given below.
By Rakesh Raman, who is a national award-winning journalist and social activist. He is the founder of the humanitarian organization RMN Foundation which is working in diverse areas to help the disadvantaged and distressed people in the society. He also creates and publishes a number of digital publications on different subjects.
About Rakesh Raman

Rakesh Raman is a national award-winning journalist and social activist. Besides working at senior editorial positions with leading media companies, he was writing an exclusive edit-page column regularly for The Financial Express (a daily business newspaper of The Indian Express Group).
Nowadays, for the past about 8 years, he has been running his own global news services on different subjects. He also has formed a free Education and Career Counselling Center for deserving children at a poor J.J. Colony in Dwarka, New Delhi under his NGO – RMN Foundation. 
He runs an exclusive community-driven anti-corruption social service "Clean House" to help the suffering residents of Delhi raise their voice against the growing corruption and injustice in housing societies where millions of people live. He also has formed an environment protection group called Green Group in Delhi.
He creates and distributes a number of digital publications that cover areas such as technology, law, environment, education, politics, corruption and transparency. He also publishes Real Voter digital magazine that focuses on politics and governance in India.
Earlier, he had been associated with the United Nations (UN) through United Nations Industrial Development Organization (UNIDO) as a digital media expert to help businesses use technology for brand marketing and business development.
Contact
Rakesh Raman
463, DPS Apts., Plot No. 16, Sector 4
Dwarka, Phase I, New Delhi 110 078, INDIA
You may please contact me on my email.
Support Independent Fearless Journalism
In today's media world controlled by corporates and politicians, it is extremely difficult for independent editorial voices to survive. RMN News Service has been maintaining editorial freedom and offering objective content for the past 10 years despite enormous pressures and extreme threats.
In order to serve you fearlessly in this cut-throat world, RMN News Service urges you to support us financially with your donations. You can choose the amount that you want to donate from the options given below. 
You also can select any of the Payment Methods:
Offline Donation: To know our bank details for online bank transfer and payment by cheque in Indian rupees.
PayPal: To make payment by Credit / Debit Card or PayPal account.