Delta Volunteers Build Homes in Philippines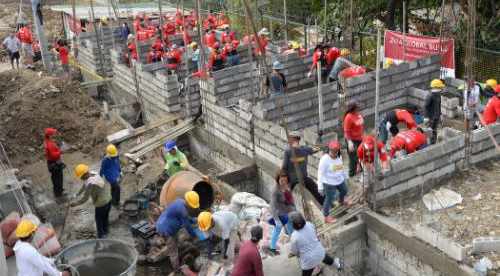 Delta Air Lines (NYSE: DAL) and Habitat for Humanity International are joining forces March 7-16, to help build 10 Habitat homes in Quezon City, outside the capital of Manila, as part of Delta's Force for Global Good program to effect positive local and global change.
This year's volunteers come from 16 cities throughout the U.S. and Canada.
"Delta has been serving Manila, Philippines, for more than 60 years, and we are strongly committed to the communities we serve," said Vinay Dube, Delta's senior vice president – Asia Pacific.
"A total of 90 employees, retirees and customers, including 40 local Manila employees, will be building homes in Quezon City, the largest city of metropolitan Manila."
While building the 10 new homes, Delta volunteers will work side by side with the families who will live in the new community — called Bistekville 4 — when it is completed.
The structures will be built to resist earthquakes, hurricanes and floods and will be primarily made from concrete block, which will require minimal ongoing maintenance for the new owners.
Delta employees from around the globe use vacation time and pay a portion of their expenses to volunteer on the international builds and help those in need of simple, decent and affordable housing. Delta has participated in similar projects in Chile, China, Dominican Republic, Ghana, Haiti, India, Japan, Mexico, South Africa and Thailand.