Dr. Seuss: What Pet Should I Get?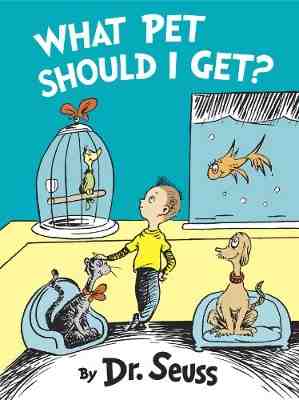 An original manuscript with accompanying sketches by Dr. Seuss, aka Ted Geisel, which was discovered in the La Jolla, California home of the late children's author will be published by Random House Children's Books.
It was announced Wednesday by Barbara Marcus, President & Publisher, and Susan Brandt, President, Licensing and Marketing, Dr. Seuss Enterprises, L.P.
What Pet Should I Get? will be published on July 28, 2015.
A box filled with pages of text and sketches was found shortly after Ted's death in 1991 when his widow Audrey Geisel was remodeling her home.
[ Also Read: Scholastic Acquires Survival Guide to Bullying ]
At that time it was set aside with other of Ted's materials. It was rediscovered in the fall of 2013 by Mrs. Geisel and Claudia Prescott—Ted Geisel's longtime secretary and friend—when they were cleaning out his office space. They reviewed the materials, finding the full text and illustrations for What Pet Should I Get? among other work.
At least two more books will be published from the materials discovered, with titles and publication dates to be announced.
[ Archie Comics Relaunches Flagship Series with New ARCHIE #1 ]
The text and illustrations for What Pet Should I Get? were found nearly complete. Geisel traditionally completed his black-and-white line art illustrations first, with color to be filled in later.
What Pet Should I Get? captures the excitement of a classic childhood moment—choosing a pet—and features the brother and sister characters that Dr. Seuss introduced in One Fish Two Fish Red Fish Blue Fish.
The discovered materials will be kept at UC San Diego, where the Dr. Seuss Collection is housed within the Geisel Library.