Energy Equipment – RMN Biz Deals
Featured Page
Name of the Company: Energy Equipment
Website: www.energyequip.net
Products / Services: Manufacturing waste water treatment products such as fine bubble air diffuser for aeration tanks, coarse bubble air diffuser for equalization tanks, floating media for bio reactors, fill pack media for bio gas production plants, tube settler media for settling tanks/clarifiers, and filter press for dewatering system.
Main Clients (in India): Reliance Industries Ltd, Hindustan Unilever Ltd, Coromandel Fertilizers, Grindwell Norton Ltd, Aqua Designs India Pvt Ltd, Get Water Solutions India Pvt Ltd, Asian Paints, Gail India Ltd, United Spirits Ltd, Tvs Motor Company Ltd, Ion Exchange Services, Polutech Ltd, Canadian Clear International Ltd, Tuv Rheinland India Pvt Ltd, Enviro Care India Pvt Ltd, Uem India Ltd, Radiant Energy Systems Pvt Ltd, Trios Engineering Corporation, Doshion Veolia Water Solutions Pvt Ltd, Ramky Enviro Engineers India Pvt Ltd, Effluent Equipments, Tata Tea Ltd, and more.
Main Clients (abroad): Alexandria Fibre Co – Egypt, Milora Phills – Philippines, HQ Technologies – Bangladesh, YME Link – Singapore, Grupo Affare – Mexico, Nutec Overseas – Sharjah,
CEO's Name and Designation: S. Saravanakumar, CEO
CEO's Background: Saravanakumar has been working in the field of biological aeration system for waste water industries for the past 17 years. He has designed aeration systems for different industrial segments such as textiles, hotels, chemicals, food, residential apartments, plastic industries, etc. He did his under-graduation in mechanical engineering and did post-graduation in environmental engineering.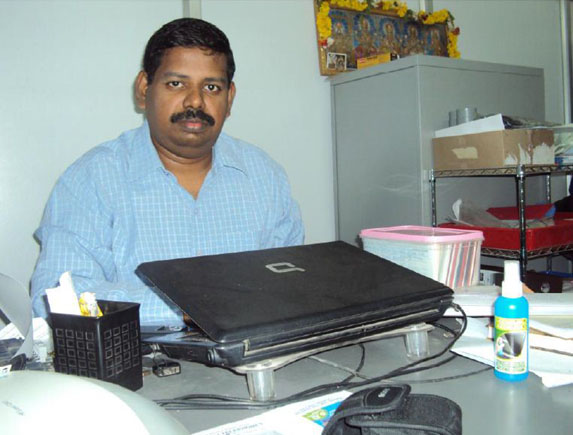 S. Saravanakumar, CEO, Energy Equipment
Interview with the CEO:
1. What are your company's main strengths?
Energy Equipment is supplying good-quality products with competitive prices and it ensures on-time delivery. We strive to achieve customer satisfaction.
2. Which factors are supporting you in your business growth?
Our production team is always ready for challenging jobs like on-time delivery, good quality products output, minimized waste and rejections.
3. Which factors are hampering your business growth?
Lack of follow up, lack of marketing tours, payment collections, problem in indentifying raw material at right cost, etc.
4. Which are your target markets for exports?
South Africa, North Africa, Singapore, Dubai, South America, and Egypt.
5. How do you plan to achieve your growth targets in the coming years?
We fix the targets based on our production capabilities. We are constantly improving the production capabilities, increasing our presence in the market by means of our website, emailing, mobile phones and personal visits to customers.
As a Business:
What You Have
We have the products like Fine Bubble Air Diffuser, Coarse Bubble Air Diffuser, Floating media @ 4.5m/day, Fill pack media @ 2m3/day, Tube Settler media @ 6m3/day and Filter press @ 1no/week.
What You Want
Our customers are original equipment manufacturers (OEMs). We look for resident distribution partners in major cities like Kolkata, Chandigarh, Bangalore, and Cochin.
For more information, you may please contact: Energy Equipment Company
If you want your company to get featured in the Biz Deals section, you can contact us.
[ Also Visit: Biz Deals section to know about more companies ]
[ Also Visit: Tech-Wise Knowledge Center for SMBs ]