FBI's New Most Wanted Terrorist: Liban Haji Mohamed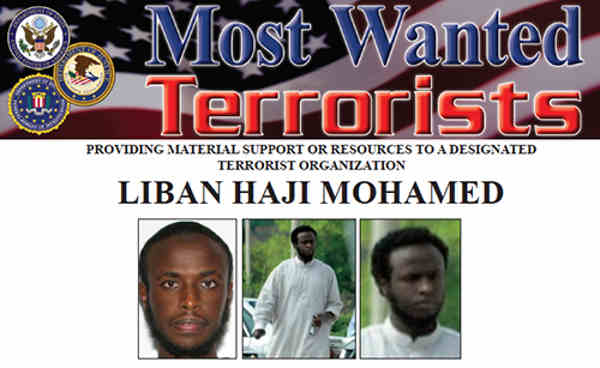 Liban Haji Mohamed, a naturalized U.S. citizen born in Somalia, has been named to the FBI's (Federal Bureau of Investigation) list of Most Wanted Terrorists.
A reward of up to $50,000 is being offered for information leading to his arrest and conviction. Mohamed is charged with providing material support and resources to al Qaeda and al Shabaab, a Somali-based terrorist organization.
"Al Shabaab has claimed responsibility for many bombings in Somalia and Uganda and the 2013 attack on the Westgate Mall in Nairobi, Kenya," said Carl Ghattas, special agent in charge of the Counterterrorism Division at the FBI's Washington Field Office. "Liban Mohamed is believed to have left the U.S. with the intent to join al Shabaab in East Africa. We believe he is currently there operating on behalf of that terrorist organization."
[ Also Read: Was FBI Right in Blaming North Korea for Sony Hacking? No. ]
Traveling with his U.S. passport, according to FBI, Mohamed is thought to have left the United States on or about July 5, 2012. Before his departure, the 29-year-old lived in the Northern Virginia suburbs of Washington, D.C., where he worked as a cab driver.
[ FBI Jobs: FBI Seeking Tech Experts to Become Cyber Special Agents ]
A federal warrant for Mohamed's arrest was unsealed last week by the U.S. Attorney's Office in the Eastern District of Virginia. In addition to the announcement adding Mohamed to the terrorist list and offering a reward for information leading to his arrest and conviction, the FBI is publicizing the case on social media channels in Somalia and elsewhere to encourage people to come forward with information about the fugitive.
[ Do You Recognize This Man? Asks FBI ]
Shortly after leaving the U.S, the international police organization Interpol issued a blue notice for Mohamed to collect additional information about his identity, location, and activities. On August 15, 2014, Interpol issued a red notice to seek him as a wanted fugitive.
According to FBI, Mohamed speaks English, Somali, and Arabic. He is black, 6 feet tall, weighs about 194 pounds, and has black hair and brown eyes. He could be using aliases including Abu Ayrow, Shirwa, Shirwac, Qatiluhum, and Qatil.
Mohamed was a close associate of convicted terrorist Zachary Chesser, who was sentenced in 2011 to 25 years in prison for attempting to provide material support to al Shabaab.
There are currently 31 individuals on the FBI's Most Wanted Terrorists list. Those on the list have been charged in the U.S. for their alleged involvement in various terrorist attacks or planned attacks around the world against U.S. interests or persons.
FBI suggests that anyone with information about Liban Haji Mohamed should contact the FBI or the nearest American Embassy or Consulate. Tips can be submitted anonymously online.
Courtesy: FBI
This article is part of our editorial section
Wars and Conflicts
that carries related news and views from all parts of the world.