FDA Clears World's First Patient-Specific Spinal Rod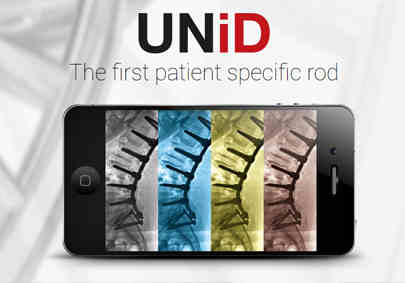 The Medicrea Group announced Monday the company has received 510(k) clearance from the U.S. Food and Drug Administration (FDA) for UNiD, claimed to be the world's first patient-specific spinal osteosynthesis rod.
Medicrea specializes in the development of personalized implants produced for a patient's specific need in the treatment of spinal pathologies,
The technology will be premiered at the 2014 North American Spine Society (NASS) Annual Meeting taking place on November 12-15 in San Francisco, CA. The first U.S. patient underwent surgery to have personalized UNiD rods implanted earlier on Monday in New York, says the company.
---
Related Stories:
Sex Education: How to Get Proper Penile Erection
Sex Goes Mobile with App-Enabled Vibrator
---
UNiD features a user-friendly software tool to help surgeons preoperatively plan their surgery and order customized, industrially produced rods to fit the specific spinal alignment needed for each individual patient.
UNiD eliminates the need to manually contour a rod during surgery, providing surgeons with a precisely aligned rod prior to surgery and reducing the amount of time patients spend in the operating room, which directly impacts infection rate and quality of recovery.
Spinal deformities include several conditions in which the spine is abnormally curved or aligned. Under normal conditions, the adult spine is straight when viewed from the front and has a series of curves when viewed from the side. This alignment helps keep the body erect and the head up with a minimum of effort.
Spinal deformities, or curves in the spine, often develop during growth in adolescence or as a result of aging. In some cases, they can progress during the adult years as well. Spine deformities can happen when unnatural curvature occurs, as in scoliosis (side-to-side curvature) or kyphosis and Scheuermann's disease (front-to-back curvature). It also occurs due to defect (as in spondylolisthesis) or damage to the spine.
Medicrea is specialized in the design, development, manufacture and distribution of orthopedic implants dedicated to spinal surgery.
Photo courtesy: Medicrea