Gangnam Style Psy Needs a Chef
Known for his ostentatious, record-breaking "Gangnam Style" music video and now with the release of his second single "Gentleman", Psy launches a global search for his personal chef in partnership with Bibigo, a family of modern Korean restaurants and food products.
In conjunction with the release of "Gentleman", Psy announced the call for applicants for the chef talent search through an entertaining YouTube Psy Go, Bibigo video. Psy has also expressed his support of the talent search on his Twitter page, encouraging fans to apply.
"We are exceptionally excited to partner with Psy for the launch of the 'Psy Go, Bibigo' chef talent search," states John Soo Han, head of Corporate Marketing and Planning for Bibigo.
"Psy has been a personal fan of Bibigo since its inception, and this collaboration is a natural fit for us both. Bibigo strives to bring modern Korean cuisine to the United States and the world through our restaurants and food products; we feel Psy has a similar goal with his music."
The finale of the talent search will occur on June 3, 2013 with the announcement of Psy's personal chef. This sought-after position will come with rock star benefits including $40,000, 5-star hotel accommodations, luxury transportation, and the once-in-a-lifetime opportunity to travel with Psy on his world tour for one month, according to Bibigo.
Psy's selected chef will accompany Psy as he travels the world entertaining fans with his energetic and infectious songs.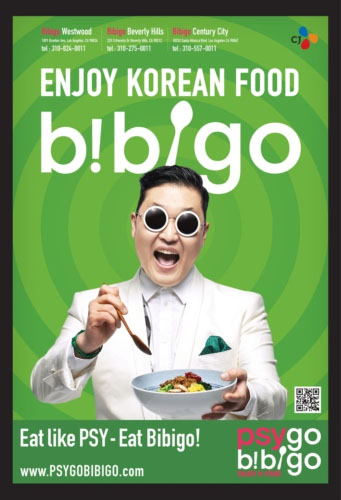 To enter the Psy Go, Bibigo personal chef talent search, fans must create and upload a unique and engaging "bibi" (Korean for "mixing") video depicting their mixing abilities.
Psy encourages applicants to be creative in their video submissions, allowing anyone with a wide range of "bibi" skills to apply. Submissions must be entered by visiting PsygoBibigo.com and uploading the video to Psy Go, Bibigo's Facebook page by May 11, 2013.
On May 20, 2013, the top three finalists will be selected and announced on Psy Go, Bibigo's Facebook page. Then, on June 3, 2013 Bibigo will announce the winner of the Psy Go, Bibigo talent search based on Psy's opinion and an online poll hosted on PsygoBibigo.com.