Green Growth Strategy for Developing Countries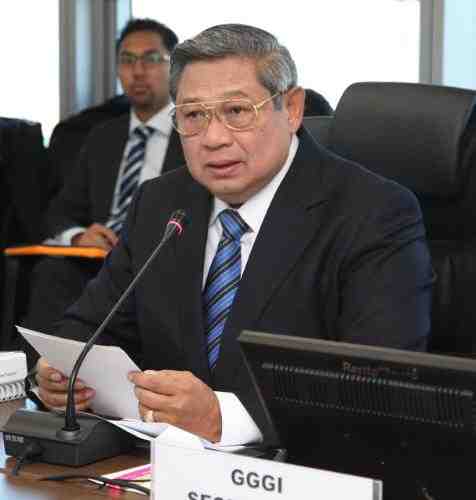 Former Indonesian President and current President and Chair of the Global Green Growth Institute (GGGI), Dr. Susilo Bambang Yudhoyono, brought to agreement a shared strategy for GGGI's approach to green growth in developing countries for 2015-2020.
Prior to adopting the new GGGI strategy, Dr. Yudhoyono was officially elected by the GGGI Assembly and Council to serve as both President and Chair of the organization at meetings in Songdo, Republic of Korea. He was introduced by Foreign Minister of the Republic Korea, Yun Byung-se.
Upon his election, Dr. Yudhoyono immediately presided over the Council, where the Members unanimously approved GGGI's new five-year strategic plan, which begins to shift GGGI's focus to least developed countries (LDCs), to working increasingly in Member countries, and to developing bankable projects on the ground.
The strategy also reorganizes GGGI's priorities to focus primarily on issues related to green city development, energy, land-use, and water.

In another major development for GGGI, it was announced Thursday that the United Kingdom will fund GGGI in the order of GBP14.8 million or roughly $23 million over the next three years.
The UK has been a GGGI partner country since 2011 and a founding member since GGGI became an international organization in October 2012.
Additionally, the Republic of Indonesia announced it will contribute $15 million over the course of three years.
Based in Seoul, GGGI is an intergovernmental organization founded to support and promote a new model of economic growth known as "green growth."
The organization partners with countries to help them build economies that grow strongly and are more efficient and sustainable in the use of natural resources, less carbon intensive, and more resilient to climate change.
GGGI's experts are already working with governments around the world, building their capacity and working collaboratively on green growth policies that can impact the lives of millions.