Here's the "World's Largest Ice Cream Scoop"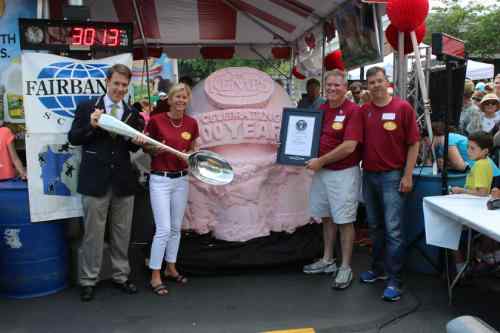 To commemorate its 100th anniversary, Kemps Dairy set a Guinness World Record Saturday for producing the "World's Largest Ice Cream Scoop."
It carved 733 containers worth of strawberry ice cream (equal to the length of a football field of the frozen dessert) into a gigantic scoop at the Cedarburg Strawberry Festival outside of Milwaukee, Wisconsin.
Carved by five nationally ranked snow sculptors from Minnesota Big Snow, the Guinness World Record-setting Ice Cream Scoop weighed-in at 3,010 pounds, as verified by Guinness World Records' judge Philip Robertson.
Once the record was officially set, hundreds of Strawberry Festival attendees had the exclusive opportunity to actually eat a part of Kemps' historic scoop.
"What better way to commemorate the traditions of Kemps than by setting a delicious Guinness World Record? An historic celebration that you can eat!" said Rachel Kyllo, senior VP of Sales and Marketing for Kemps.
Founded in 1914, Kemps LLC, based in St. Paul, Minnesota, markets milk, ice cream and related dairy products under the Kemps brand. The company operates six manufacturing facilities located in Minneapolis, Rochester, Farmington and Duluth, Minnesota; Cedarburg, Wisconsin and Fargo, North Dakota.