High Heels are Biggest Culprit of Female Foot Pain: Study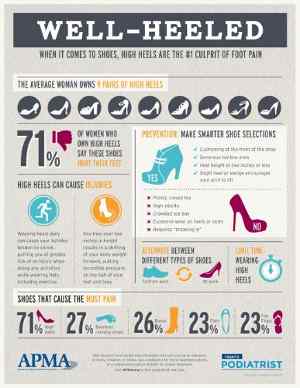 The American Podiatric Medical Association (APMA) today announced the results of its Today's Podiatrist survey, which measures the public's attitudes toward foot health.
The study, which surveyed 1,000 US adults ages 18 and older, revealed that nearly half of all women (49 percent) wear high heels, even though the majority of heel wearers (71 percent) complain these shoes hurt their feet.
These findings seem to fit the old adage that "beauty is pain." Even chronic discomfort doesn't appear to deter women from purchasing the strappy stilettos they love: The average woman who owns high heels has nine pairs!
[ Also Read: Survey Reveals the Importance of Oral Sex ]
Asked what they do when shoes hurt their feet, 38 percent of women said they'd "wear them anyway if I like them."
However, in spite of their extensive shoe collections, only two percent of women say they wear high heels every day, and just five percent say they wear high heels five days per week.
Almost half say they wear heels rarely or never (46 percent)—which may give them a leg-up when it comes to preventing permanent damage to their feet.
[ Also Read: Can Guys Know What Girls Think About Them…and Sex? ]
"With high heels, moderation is key. It's best not to wear them every day," said Matthew G. Garoufalis, DPM, past president of APMA. "Daily heel-wearing can cause the Achilles tendon, the strong tendon at the back of your ankle, to shrink. This increases your risk of an injury while doing activities in flat shoes, including exercise."
Heel height also plays an important role in preventing foot pain. Almost half of women say they can withstand wearing heels that are 3″ or higher, though podiatrists recommend staying more grounded.
[ Also Read: Sex Life Survey: People Use Phone and Facebook During Sex ]
While high heels were far and away the biggest culprits of foot pain, affecting 71 percent of wearers, women said other types of footwear including barefoot running shoes (27 percent), boots (26 percent), flats (23 percent), and flip flops (23 percent) also caused discomfort.
The American Podiatric Medical Association (APMA) is the nation's leading professional organization for today's podiatrists.