Hillary Clinton Honored for U.S.-Mexico Partnerships
The U.S.-Mexico Foundation's (USMF) Mexican American Leadership Initiative (MALI) honored former Secretary of State Hillary Rodham Clinton at its second annual MALI Awards event last Saturday.
The MALI Hermandad Award is presented annually to outstanding leaders who have advanced the Foundation's goal of building bridges of understanding and constructive partnerships between the people of the United States and Mexico that enhance opportunity for the people of Mexico.
Clinton was recognized for her efforts in creating civil society diplomacy and diaspora initiatives while at the State Department, which included a task force of Mexican American leaders that became the USMF's MALI.
The 2013 MALI Awards Brunch was attended by over 400 of the most prominent national Latino leaders throughout the United States, featuring former Cabinet Secretaries Carlos Gutierrez (Commerce) and Henry Cisneros (HUD), as well as Monica Lozano, CEO of ImpreMedia and Publisher of La Opinión newspaper in Los Angeles.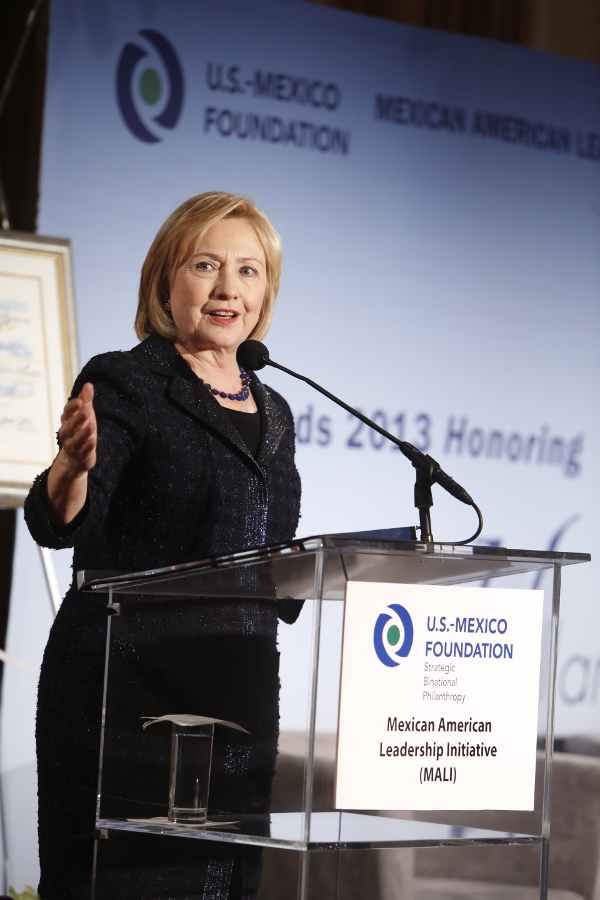 Secretaries Gutierrez and Cisneros are members of the USMF Board of Directors. Cisneros and Lozano are among the founders of MALI.
During her remarks, honoree Hillary Rodham Clinton reminded the audience that the U.S.'s future is linked to Mexico's, just as Mexico's is to the United States, "I believe that our best allies and partners, for all of our sakes, are right here, nearby," said Clinton.
The brunch also featured a special appearance by the Latin Grammy-nominated Trio Ellas and took place on the campus of the University of Southern California (USC).
For more information on the Foundation's work in Mexico, or the MALI Awards Brunch, visit the Foundation website at www.usmexicofound.org.