Illegal Arrests Alleged Over Statute of Unity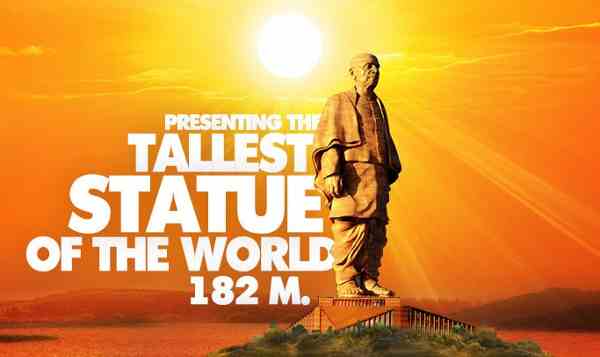 Humanitarian organization National Alliance of People's Movements (NAPM) has reported illegal arrests and harassment of women and children in Kevadia Village of Narmada District in Gujarat.
In a statement issued Sunday, NAPM alleged that shocking incidents of intimidation, harassment and property damage took place Saturday, 28th March 2015, in the village at the behest of the police officers of Sardar Sarovar Narmada Nigam Limited and the state authority.
Initiated by Narendra Modi – who is now the Prime Minister of India – the Statue of Unity is a planned 182 metres monument of an Indian political leader Vallabhbhai Patel.
[ BJP, Congress Misleading Farmers: Anna Hazare ]
The statue will be built facing the Narmada Dam, 3.2 km away on the river island called Sadhu Bet near Vadodara in Gujarat. The project is expected to cost about Rs. 3,000 crore (US$470 million) for which the construction began in October 2014.
According to NAPM, the arrested people were demonstrating against the forced eviction by the local authorities. It was a "brutal use of force to crush people's democratic opposition to forcible eviction for the controversial Statute of Unity project," the NAPM said in its statement.
[ No Democracy in India. It Is Parliamentary Dictatorship. ]
According to NAPM, five women, one man and three minors were illegally arrested by the police. After being transported to the Tilakwada Thana (police station), around 29 km away, they were held without proper food and other facilities. Even the family members of the arrested people were not informed about the arrest, NAPM says.
The police action is stated to be an attempt to crush the people's democratic opposition to their forcible eviction for the purpose of streamlining the proposed "Shreshtha Bharat Bhavan," a part of the Sardar Sarovar Nigam Ltd.'s Statue of Unity Tourism Project.
Environmental activists have also been protesting that this project was started without environmental clearance from the concerned Ministry.
[ How Pollution Makes Delhi a Poisonous Gas Chamber ]
NAPM demands immediate removal of the newly built fencing and withdrawal of police forces from the locals' land and homes near the project while the authorities should issue an apology to the arrested peoples of the six families.
Moreover, NAPM says that compensation should be paid to those who incurred property damage and loss due to the illegal actions of the police. It demands that a special team should be appointed and sent to the area to investigate and prepare a report on the arrest and continued harassment of tribals, and human rights activists should be included in the investigation team.
While the Indian government has earmarked Rs. 200 crore (US$31 million) for the statue in the 2014-15 budget, the opposition political parties have criticised the expenditure.
Photo courtesy: Statue of Unity