India, Japan Eyeing Growth Despite Economic Slowdown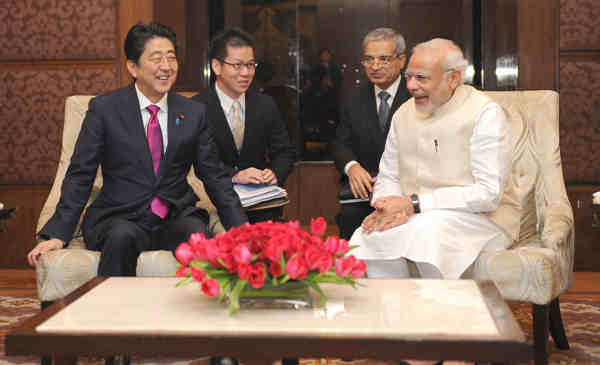 The Prime Minister of India Narendra Modi and the Prime Minister of Japan Shinzo Abe addressed the India-Japan Business Leaders Forum Friday in New Delhi.
In his remarks at the event, Modi expected India and Japan to move ahead together, not just in the sphere of high-speed trains, but also for "high-speed growth."
He recalled his visit to Japan last year, and the commitment of 35 billion dollars of investment made by Japan.
[ Is India Using Fake Stats to Show Economic Development? ]
Modi said that the figure had surprised many at that time, but today, within a short time-span, "unimaginable progress" had been made, and the contours of this investment were beginning to get visible on the ground.
Modi said that "Make in India" is proceeding in mission mode, not just in India, but also in Japan. He said the "Japan Plus" initiative that had begun last year as a policy experiment, is also doing well.
[ Online Poll: Do You Accept Narendra Modi as Prime Minister of India? ]
Further, Modi mentioned recent economic indicators in both India and Japan, and said these were extremely encouraging, especially in the light of the global economic slowdown.
Modi recalled that Japan had been a part of many key economic turning points in India, and gave the examples of the Maruti car, and the DFC (Dedicated Freight Corridor).
Photo courtesy: Press Information Bureau