India Seeks Sri Lanka's Support to Fight Terrorism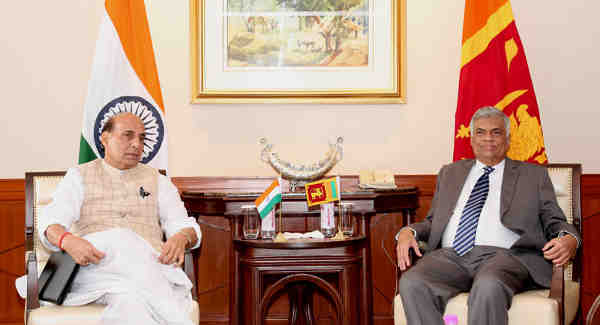 India's Home Minister Rajnath Singh called on the visiting Prime Minister of the Democratic Socialist Republic of Sri Lanka, Ranil Wickremesinghe, in New Delhi on Wednesday.
Rajnath Singh stated that Sri Lanka and India share objectives for regional peace, security, commitment to fight terrorism and maritime safety in the Indian Ocean.
"It is essential that our countries unite in isolating and targeting the source of ideological and financial support and training to terrorists in our region," Rajnath Singh said. "The problem is getting worse and it is not confined to just India and Afghanistan. South Asia needs to develop a clear response to terrorist infrastructure in the region."
The Indian minister appreciated that Sri Lanka is in general agreement with India on the need for an UN Comprehensive Convention on International Terrorism (CCIT) and believes that non-existence of universally accepted definition for terrorism results in terrorist groups being permitted to operate internationally.
"In their view the finalization of the CCIT is urgently required as such a legal framework would provide clarity to a unified strategy to confront global terrorism," Rajnath Singh said.
Recalling that India and Sri Lanka have ongoing cooperation in countering drug trafficking, the Home Minister stated that the two countries should encourage institutions on both sides to strengthen these exchanges.
"We should also ask officials on both sides to convene the first meeting of the Joint Coordination Committee (JCC) on Security Cooperation to discuss cooperation in countering terrorism and drug trafficking, as they are often interlinked," Rajnath Singh suggested.
Photo courtesy: Press Information Bureau