Indian Government Releases Stamp on Drukpa Buddhists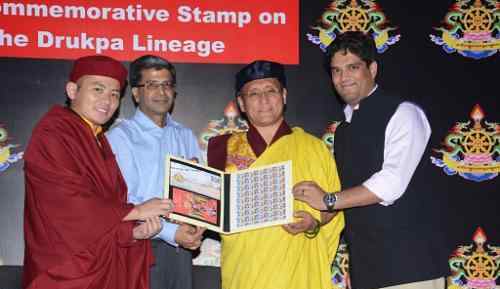 Department of Post, Ministry of Communication and IT, Government of India today celebrated Buddha Purnima with the release of a commemorative stamp on the Drukpa Buddhists.
The Drukpa Lineage, based in the Himalayas, is said to be the most prominent Buddhist lineage in India.
The commemorative stamp celebrating the 999 years of Drukpa Lineage was released by S. K. Sinha, Member (HRD), Department of Post in the presence of the Gyalwang Drukpa, spiritual head of Drukpa Buddhists and Drukpa Thuksey Rinpoche, spiritual regent of the lineage, at a ceremony in Delhi.
The Drukpa Buddhists follow the Mahayana Buddhist tradition in philosophy. This is the philosophy of "getting enlightened for the benefit of others."
The methods are based on the Tantrayana teachings passed down from the Indian saint Naropa, born in 1016.
For more information on the lineage, you can visit its website.