Intra-Syrian Talks Officially Start in Geneva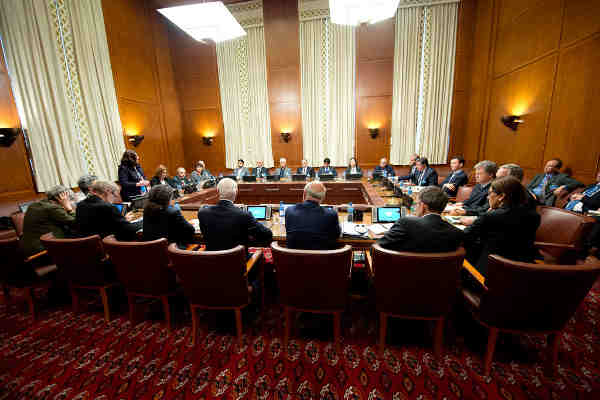 The delayed intra-Syrian talks to end five years of bloody warfare officially started in Geneva on Monday with two hours of talks between the United Nations mediator and the opposition High Negotiations Committee (HNC).
"As far as we are concerned, their arrival at the Palais des Nations and initiating the discussions with us is the official beginning of the Geneva talks," said UN Special Envoy for Syria Staffan de Mistura, who already met the HNC yesterday, but at their hotel, not at the UN's Geneva headquarters.
[ Safer Learning Planned for Children Caught in Syrian Conflict ]
Mr. de Mistura, who is mediating the indirect talks between Government and opposition factions in close proximity diplomacy, which will see him shuttling between the parties in different rooms, will meet Government representative today morning and plans a second meeting with the HNC in the afternoon to go more deeply into the issues raised yesterday.
These concern the opposition's desire to see, for the talks' duration, a reduction in violence, release of detainees and lifting the sieges that have driven several towns to the brink of starvation, with dozens reported dead.
[ Also Read: How India Abuses Children's Right to Education ]
Mr. de Mistura has made clear that he is under no illusions about the difficulties in ending a war that has killed over 250,000 people, sent over 4 million fleeing the country, displaced 6.5 million internally, and put 13.5 million people inside the country in urgent need of humanitarian aid.
"There will be a lot of posturing, we know that, a lot of walk-outs and walk-ins because a bomb has fallen or because someone has done an attack, and you will see that happening," he said last week.