Is Narendra Modi the Weakest Prime Minister of India?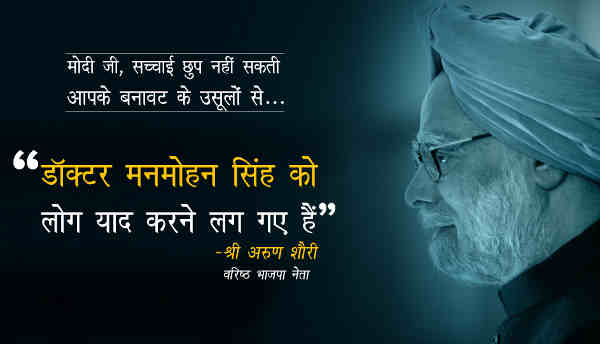 By Rakesh Raman
A senior leader, Arun Shourie, of the ruling party BJP in India has opined that India's Prime Minister (PM) Narendra Modi is perhaps the weakest PM in the history of independent India.
At a recent event in Delhi, Shourie said that the current Modi regime is so ineffective that people are now remembering the previous PM Manmohan Singh of the UPA government.
Shourie, who was a minister in the BJP government headed by PM Atal Bihari Vajpayee, was expecting a ministerial position in the Modi government also. He had all praise for Modi when the latter was campaigning as the PM candidate in the 2014 Lok Sabha election.
But when Modi became the PM, he sidelined Shourie and many other greedy BJP leaders who were admiring Modi just to grab a ministerial position in the government. As Shourie has lost hope of becoming a minister, he has chosen to criticize Modi and his government.
[ Modi Cheated, Defeat BJP in Bihar: Ram Jethmalani ]
Shourie said that the Modi government is largely driven by hype. "There is clearer belief (in the present system) that managing the economy means managing the headlines, and this is not really going to work," Shourie said.
The former BJP minister observed that in the past 18 months of his rule in India, Modi has only repackaged Congress-led UPA schemes, after tweaking them to suit the interests of his crony capitalist friends, and has allowed a free run to radical elements to play their Beef politics.
[ Online Poll: Do You Accept Narendra Modi as Prime Minister of India? ]
Congress believes that Modi government amended UPA's Land Bill so that a chosen few could usurp the land of poor farmers. His Swachh Bharat Abhiyan is a repackaged version of UPA's Nirmal Bharat Abhiyan. The Goods and Services Tax was introduced by the UPA. This legislation would have affected widespread reforms, but it was altered by the BJP.
Shourie's statement comes as a bitter indictment of the BJP government, whose public relations machinery has been on an overdrive since May 2014, Congress said Tuesday.
The opposition party also suggested that the PM Office is so busy working on the image of the Prime Minister abroad that many of our strategic advantages are being compromised.
[ Why Narendra Modi Must Not Be Sent Abroad ]
One only needs to look at our own neighborhood to see how our foreign policy is alienating India within South Asia. Modi needs to understand that India would never be able to realize its potential in a hostile environment. Congress asked: What have been the tangible benefits of Modi's foreign tours?
Further, pointing out the double-speak of the big businessmen in India, Shourie said, "The industrialists who meet the PM don't speak the whole truth. After meeting the PM, they wonder what is happening and say 'please do something'. And in front of the media they give the government 9 out of 10." Shourie said that he believes there has never been a weaker PM as we see today.
PM Modi should pay heed to the advice of his party's senior leader. Governments cannot be run on marketing campaigns. It is time for Modi to deliver, Congress suggests.
By Rakesh Raman, the managing editor of RMN Company
You also can read: More Articles by the RMN Editor, Rakesh Raman
This article is part of our editorial initiative called
REAL VOTER
that covers political developments in India. Click here to visit
REAL VOTER
.
Photo courtesy: Congress