Katy Perry and Staples Join Hands to Help Teachers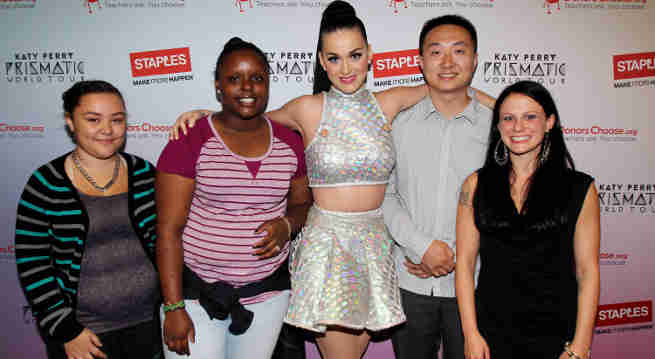 Staples (NASDAQ: SPLS) and global pop music superstar Katy Perry continue to "Make Roar Happen" in the Greater Boston area Monday by announcing 106 local classroom projects have been funded as part of Staples' $1 million donation to DonorsChoose.org.
Staples fully funded the balance of every project that was on DonorsChoose.org in the Boston Metro, Cambridge and Metrowest communities.
This $80,698 donation helped 83 teachers fulfill classroom needs and helped 8,958 students in the Boston community.
"I'm glad to partner with Staples on my Prismatic World Tour to raise awareness and funds for DonorsChoose.org, and to remind my fans that a small gesture can have a huge impact on the very basic materials classrooms need for teachers to help students reach their full potential," said Katy Perry.
Staples and Katy Perry teamed up to "Make Roar Happen" and support teachers. Through the "Make Roar Happen" program, Katy Perry will help Staples raise awareness of how to help teachers with a $1 donation either in store or on Staples.com.
As part of the program, Staples, the presenting sponsor of the North American leg of the Katy Perry Prismatic World Tour, donated $1 million to DonorsChoose.org, a charity which has helped fund more than 450,000 classroom projects for teachers and impacted more than 11 million students.
$80,698 of that donation went to Boston Metro, Cambridge and Metrowest classrooms Monday.