Major League Soccer Most Valuable Player Award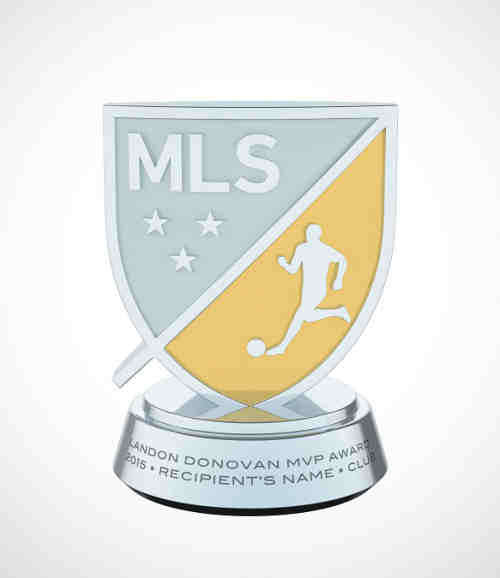 Major League Soccer announced Thursday it has named its Most Valuable Player award after American soccer legend Landon Donovan, who retired in December after playing 14 seasons in the League.
Since 1996, the MLS MVP award has been presented annually to the individual deemed most valuable to his club by players, management and the media.
Designs for the Landon Donovan MVP Award, crafted by Tiffany & Co., were unveiled by MLS Commissioner Don Garber at a special tribute prior to the 2015 MLS SuperDraft in Philadelphia, PA.
"As a child, soccer was merely an outlet for me — a way to express myself," said Donovan. "To have this prestigious award named after me is truly unimaginable. Thank you to Commissioner Garber, Major League Soccer and all of the people that have supported me along the way. I am extremely humbled by and proud of this honor."

The Landon Donovan MVP Award features a silhouette of Donovan applied to a sterling silver MLS Crest, which is attached to a black, ebonized wood base with a sterling silver collar.
The trophy's silver portion is recessed with a matte finish and the vermeil portion is recessed with a high polish. It stands 12 inches tall, and winners of the award will have their name and their club hand-engraved on the collar.
Major League Soccer kicks off its 20th season in early March 2015 featuring 20 clubs throughout the United States and Canada. The 2015 season will feature the most comprehensive U.S. media rights partnership in the history of the league, as eight-year agreements with ESPN, FOX Sports and Univision Deportes commence next year.