Maria Menounos' "Red" Hot Secrets Revealed
On Tuesday, Oct. 15, Maria Menounos will share her "red" hot secrets for staying fit and fab amongst 2,000 pounds of fresh, floating cranberries at Ocean Spray's cranberry bog display in Rockefeller Center.
The best-selling author and sizzling Host of EXTRA has teamed up with the cranberry cooperative from her home state of Massachusetts to share her secrets for fueling herself every day, everywhere, every way with the deliciously healthy fruit, especially during the holidays.
[
Also Read
:
Maria Menounos Shares Her Smile for Philips
]
"Growing up in Massachusetts, I always had an appreciation for the cranberry," said Menounos. "Nothing compares to the beauty of a cranberry harvest, but there's more to the cranberry than meets the eye. It's an exceptionally healthy fruit."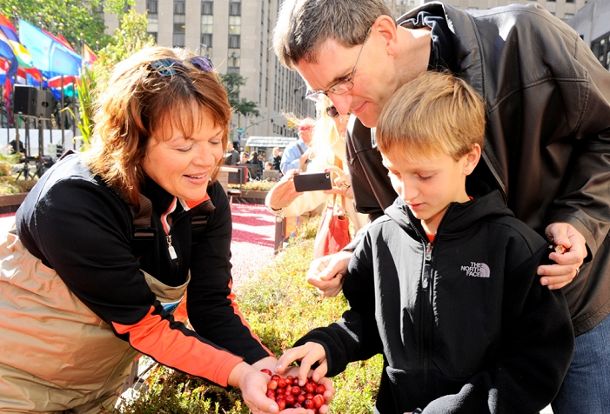 Fans can catch Menounos at Ocean Spray's cranberry bog display in Rockefeller Center Tuesday, Oct. 15 from 8 a.m. – 2 p.m. where she will be showcasing her best moves for staying fit and trim, just in time for the holidays.
[
Also Read
:
How TV Star Connie Britton Looks Flawless
]
The star will also share her favorite dishes and tips for avoiding the holiday "jiggle" with low-calorie cocktails, portion-controlled sides and reduced-sugar sauces.
So, what's the star's advice?
"Live in color!" shared Menounos. "Find ways to rev up your workouts by mixing things up – a festive salsa class can be a great calorie burner – and fill your plates with colorful, healthy fruits like the cranberry. Whether it's fresh, juice, dried or in a sauce, there are a variety of ways to incorporate cranberries into a healthy routine – morning, noon and night."
Ocean Spray is an agricultural cooperative owned by more than 700 cranberry and grapefruit growers in the United States, Canada, and Chile who have helped preserve the family farming way of life for generations.