Meet the 55 Richest People in Africa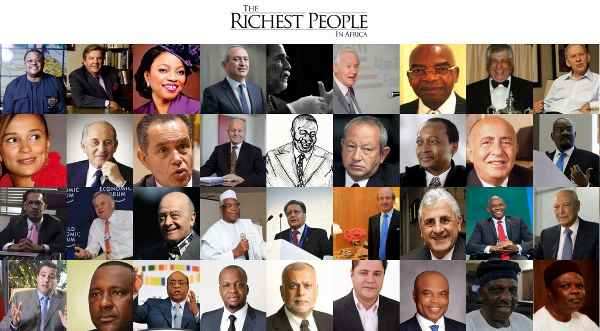 Ventures Africa, an African business magazine and news service, today released its second annual ranking of Africa's wealthiest people. 'The Richest People in Africa' list is a compilation of the continent's wealthiest individuals.
In 2014, Ventures Africa has tallied 55 African billionaires, with a net worth totalling $161.7 billion.
This year, Africa welcomed five new billionaires, four of whom are Nigerian.
Key findings from the research include:
The combined fortune of Africa's 55 billionaires is $161.7 billion. This is up 12.4 percent from $143.8 billion in 2013.
The average net worth of the continent's wealthiest people is $2.9 billion. The median age is 63 years old.
Mohammed Dewji of Tanzania and Igho Sanomi of Nigeria remain the continent's youngest billionaires. They are both 39 years old.
Folorunsho Alakija of Nigeria is the richest black woman in the world, worth $7.3 billion. She is followed by Isabel dos Santos, daughter of Angolan President Jose Eduardo Dos Santos, at $3.5 billion.
The most prevalent industries in which African billionaires operate are: construction, financial services, oil and gas, manufacturing, and real estate.
Aliko Dangote, founder of Africa's largest industrial conglomerate, Dangote Group, remains the continent's richest man. His net worth has grown to $25.7 billion in 2014, a 21% rise from his $20.2 billion valuation in 2013.
Nigeria, South Africa and Egypt are home to the most billionaires. Nigeria leads the pack with 23, while South Africa and Egypt have both produced eight billionaires. In total, twelve African countries are represented on the list.
Africa's billionaires provide jobs for almost half a million people on the continent.
"The Ventures Africa Rich List is the most authoritative accounting of individual African wealth," said Chi-Chi Okonjo, founder of Ventures Africa. "We have been able to accomplish this through our on-the-ground experience and in-depth knowledge of the local and regional African business landscape."
According to Ventures Africa, the list has been compiled by sourcing financial reports, tracking equity holdings around stock markets, and identifying shareholding structures in large, privately held companies.
The results have been corroborated through consultation with leaders in investment banking, real estate, and financial analysis to determine proper valuations. Here's the full Ventures Africa list.