Mobile Vans to Sell Pulses in Delhi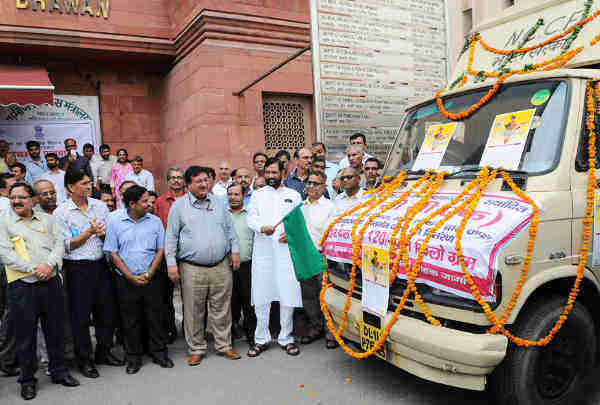 India's Minister of Consumer Affairs, Food and Public Distribution, Ram Vilas Paswan flagged off mobile vans on Wednesday for selling pulses in Delhi.
These mobile vans run by National Cooperative Consumer Federation of India (NCCF) will sell pulses mainly Tur and Urad at Rs. 120/kg in various parts of Delhi.
[ Also Read: Arvind Kejriwal Accused of Political Corruption ]
Outlets of Kendriya Bhandar and Safal are already selling pulses in Delhi and NCR at these rates. Paswan said that the government has procured about 1,46,000 MT pulses for buffer stock.
State governments have been urged to take the pulses from the buffer stock and sell them for not more than Rs. 120/kg to ensure availability at reasonable prices.
[ "मेरा देश बदल रहा है…आगे बढ़ रहा है" ]
Paswan expressed the hope with the recent increase in the MSP and expected good monsoon, pulses production will get desired boost.
Photo courtesy: Press Information Bureau