Modi Visits L&T Workers' Residential Complex in Riyadh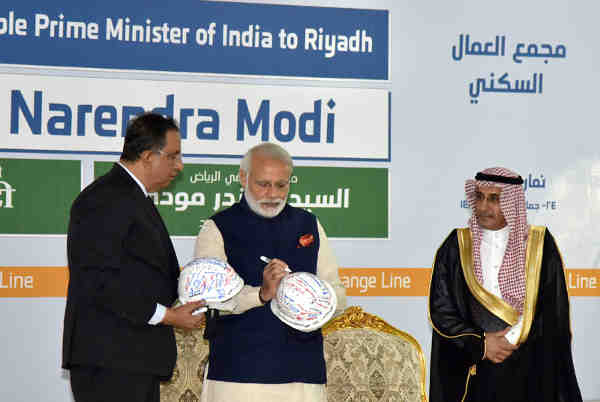 The Prime Minister of India, Narendra Modi, visited the L&T workers' residential complex Saturday in Riyadh, Saudi Arabia. L&T is part of a consortium that is building a section of the Riyadh Metro.
Speaking on the occasion, Modi appreciated the efforts made by the workers for the project, and said "your hard work has brought me here."
He said that the work being done by Indian workers abroad, not only earns money, but also raises the stature of India.
He said Indian workers were fondly remembered in various parts of the world where they had completed many prestigious projects.
[ Narendra Modi Visits Russia; Promises Jobs for Students ]
He said that in future, the Riyadh Metro too would similarly evoke memories about Indian workers who had contributed to its construction.
The Prime Minister said he often gets to know about Indians working abroad through letters he receives from their relatives. He added that he shares both their joys and their sorrows, through these letters. "I feel I am a part of your family," he said.
[ Why Narendra Modi Must Not Be Sent Abroad ]
Modi mentioned the "e-migrate" initiative of the Union Government, which would facilitate people who wished to work abroad.
He said more "worker resource centres" would be opened, and the MADAD ('MEA' in Aid of Diaspora in Distress) portal was a way to immediately reach the Union Government. The Prime Minister said that India has the capacity to give the world the manpower it requires.
Photo courtesy: Press Information Bureau