Myanmar Begins the Process of Forming Next Government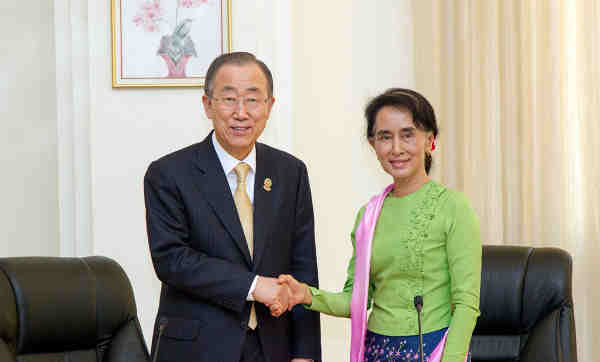 Welcoming this past weekend's elections as "a significant achievement in Myanmar's democratic transition," UN Secretary-General Ban Ki-moon on Thursday extended congratulations to the National League for Democracy (NLD) and Daw Aung San Suu Kyi for their landmark performance at the polls and to the Union Solidarity and Development Party (USDP) for its dignified acceptance of the verdict of the people.
[ Online Poll: Do You Accept Narendra Modi as Prime Minister of India? ]
Congratulating the people of Myanmar for their "peaceful, dignified and enthusiastic" participation in historic elections of 8 November, the Secretary-General, in a statement issued by his spokesperson, acknowledged, in particular, the courage and vision of President Thein Sein "whose leadership in the reform process has helped achieve progress to this defining stage."
The Army's support to the conduct of credible and transparent elections as well as its acceptance of the results, have also been uniquely important, the statement added.
The Secretary-General is his statement went on to commend the Union Election Commission, political parties, domestic and international observers and all others who contributed to making these elections a significant success.