Narendra Modi Visits Terrorist Attack Site in Pathankot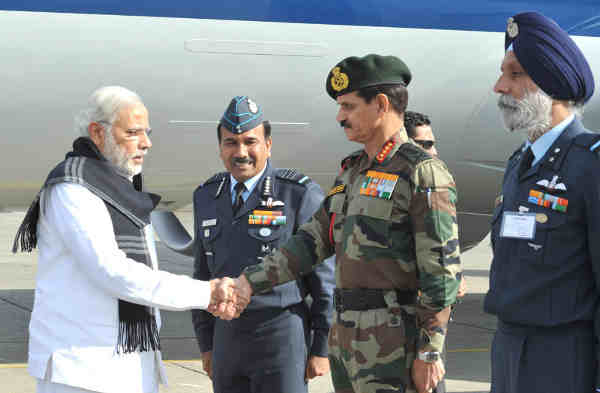 India's Prime Minister Narendra Modi on Saturday visited Pathankot Airbase in Punjab, which was attacked by terrorists recently.
Senior officials of Defence Forces made a detailed presentation about their joint counter-terrorist and combing operation to tackle such a serious terrorist attack.
According to government sources, the Prime Minister visited the relevant sites on the Airbase. He also made an aerial survey of the border area.
[ Also Read: Who Is Responsible for Pathankot Terrorist Attack? ]
National Security Advisor Ajit Doval, the Chiefs of Army and Air Force, NSG and BSF were present during the visit.
A week ago, armed terrorists had attacked Pathankot Air Force Station, part of the Western Air Command of the Indian Air Force.
It is believed that the terrorists belonged to the Islamist terrorist group Jaish-e-Mohammed.
In the picture above: Narendra Modi being received by the Chief of Army Staff, General Dalbir Singh and the Chief of the Air Staff, Air Chief Marshal Arup Raha on his arrival, at Pathankot Airbase, on January 09, 2016.
Photo courtesy: Press Information Bureau