Nissan's "Heisman House" Returns on ESPN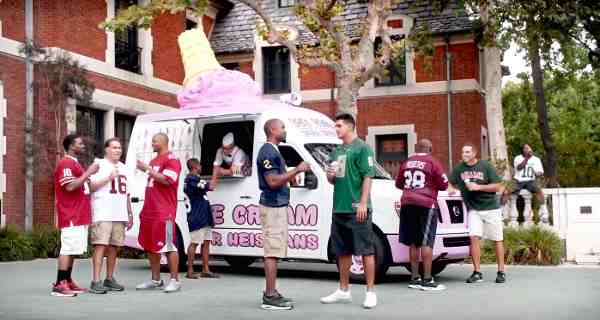 Just in time for kickoff of the 2015 college football season, ESPN and Nissan are bringing back The Nissan Heisman House, giving fans a glimpse of what it might be like if the winners of football's individual honor – the Heisman Trophy – lived together under one roof.
Now in its fifth year, the Nissan Heisman House campaign stars 14 Heisman Trophy winners in a series of TV spots airing on ESPN beginning September 3 and running throughout the season.
There is a social element to the campaign this year, with a wide variety of content featuring the Heisman winners that will be pushed out throughout the season, all of it tailored to specific high profile match-ups and other moments relevant to college football fans.
In addition, there are print ads, radio ads and an interactive website that houses over 20 shareable online videos, as well as the annual Heisman House Tour that will travel to college campuses throughout the season.
The Nissan Heisman House campaign supports Nissan's long-standing sponsorship of the Heisman Memorial Trophy Award and the Heisman Trophy Trust, a charitable organization focused on outreach to the underprivileged and underserved.
Central to the Heisman House concept is the online platform, NissanHeismanHouse.com, where fans can learn about current house members, cast their votes for the next Heisman Trophy winner and watch behind-the-scenes footage filmed during the campaign production.
This year's spots will introduce newcomers Marcus Mariota, Steve Spurrier and Jim Plunkett alongside returning House members Sam Bradford, Tony Dorsett, Eddie George, Robert Griffin III, Johnny Manziel, George Rogers, Troy Smith, Roger Staubach, Vinny Testaverde, Herschel Walker and Charles Woodson.
Ten of Nissan's vehicles, including the upcoming 2016 TITAN XD, the 2015 Murano and the all-new 2015 Maxima, are also featured throughout the campaign.
The Nissan Heisman House campaign was developed in collaboration with TBWA\Chiat\Day, OMD and ESPN's in-house creative team, CreativeWorks.