North American Auto Show Reveals the Vehicles for Gallery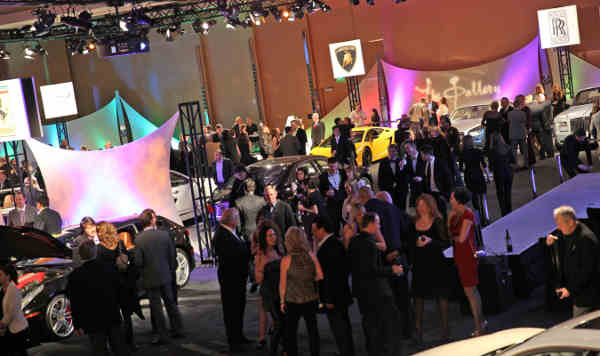 The North American International Auto Show (NAIAS) announced Wednesday the lineup of vehicles that will grace The Gallery at MGM Grand Detroit, the first of several official NAIAS events to be held in Detroit over two weeks.
"There's not a collection of vehicles like this in one room anywhere else in the world," said a beaming Scott LaRiche, chairman, NAIAS 2015. "This is an event unlike any other."
And, though few in number, LaRiche said tickets are still available to Detroit's most exclusive car event featuring more than $7 million worth of the industry's most iconic, exotic and luxury vehicles.
The eighth annual edition of The Gallery at MGM Grand Detroit will be held Sat., Jan. 10, beginning with a private dinner at 7 pm.
[ Meet the NAIAS 2015 Poster Contest Winners ]
A portion of the proceeds from the evening will benefit Henry Ford Hospital (HFH), Fundraising Partner of The Gallery. LaRiche said funds will be generated through the sale of only 300 tickets at $1,000 per ticket. HFH, Detroit's premier medical institution, has been a critical part of the community for generations, and will celebrate its centennial in 2015.
Vehicles scheduled to appear at The Gallery at MGM Grand Detroit include:
Aston Martin
Vantage V 12 S
Rapide S
Vanquish
Bentley
Flying Spur
GTC
Mulsanne
Chevrolet
Corvette Z06
Falcon
F7
Ferrari
LaFerrari
California T
FF
Jaguar
F-Type project 7
Lamborghini
Huracan
Aventador
Land Rover
Range Rover Sport SVR
Lingenfelter
Modified C7 Corvette Stingray (Z06)
Modified C7 Corvette Stingray
Local Motors
Rally Fighter
Maserati
QP
Granturismo Coupe
Granturismo Convertible
Porsche
918 Spyder
Panamera
Rolls-Royce
Drophead Coupe
Wraith
SRT
Dodge Viper GTS
Now in its 27th year as an international event, the NAIAS is among the top auto shows in the world.