Nude Rebtel Desi Dancers Take Over Times Square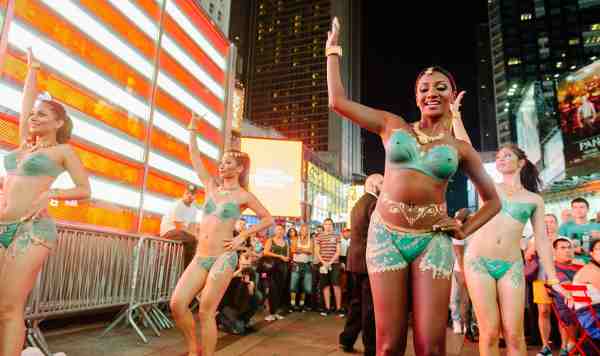 Saturday night, Rebtel pulled off a well-crafted move that had Times Square roaring, and a slew of cameras snapping. The flash event featured a handful of gorgeous nude Bollywood dancers clad in only body paint styled in the design of green and gold half Sarees.
The women hit Times square at 9:45 PM and were filmed dancing to the popular Indian song, Chammak Challo, at the Pedestrian Plaza in Times Square.
According to Rebtel, a fast crowd gathered to watch and hopped in for free photo ops following the flash event, including the current controversial Times Square Desnudas.
[ Also Read: Why Bollywood Always Makes Bad Films ]
Combining eyebrow raising female nudity, the use of body paint in Times Square, seductive Bollywood moves, and the daring choice of an incredibly risque stunt for a generally conservative culture, Rebtel says it now stands alone among competitors. It offers its Unlimited Calling Plan to India for $8 a month with the first month free.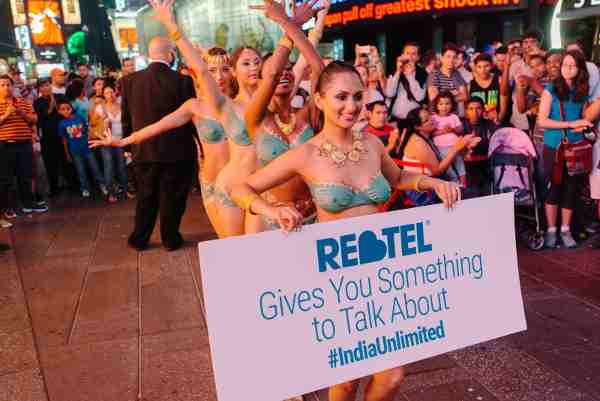 The topless dancers ended their dance holding a sign that said "Rebtel Gives You Something to Talk About #IndiaUnlimited". The flash event comes on the heels of Rebtel's Unlimited Calling to India release.
"Rebtel's Indian users are a generation of free thinkers, free speakers, and free spirits," states Varun Atrey, Rebtel marketing manager. "The way for us to get their attention is to step outside of the box and look at what makes such a demographic tick."
The flash event was filmed by Bravo Media with Beautiful Planning Marketing & PR Firm behind the event. Body paint was applied by body paint artist Andy Golub and dancers for the flash event were provided by Mixt Dance Group.
The dance was built from Bollywood movie Ra One and choreographed by Bollywood Touch's lead choreographers, Monica Desai and Sanchi Lunawat. The body paint was fashioned in the style of the Chammak Challo scene. Rebtel is headquartered in Stockholm.