Over 40,000 Runners to Participate in Tel Aviv Marathon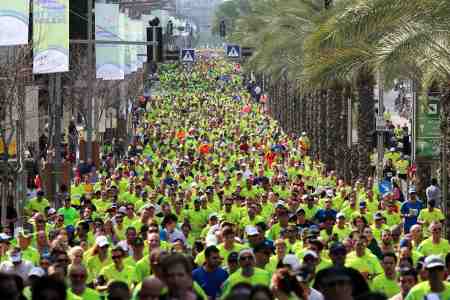 More than 40,000 runners are expected to descend upon Tel Aviv to participate in the 2015 Tel Aviv Marathon. Taking place on February 27th, 2015, runners from Israel and abroad will participate together in Israel's international sports event.
The 42.195 km long marathon ends next to Ganey Yehoshua Park with an after-party for the participants and events throughout the evening.
A large expo will take place in Rabin Square from February 22nd – 25th with runners' kit distribution, lectures and booths run by world leading sports companies.
The traditional pasta party will happen the night before the marathon which will be a day of celebration with music playing along the route in keeping with the flair of Tel Aviv's world famous Nonstop City life.

"The 2015 Tel Aviv Marathon is one of the most spectacular races in Israel and stands alongside the great marathons of the world. The marathon is a big celebration not only for the athletes but also for the city's residents and its visitors, and this year we are glad to celebrate with a record number of participants," said Ron Huldai, the Mayor of Tel Aviv-Yafo.
Tel Aviv Marathon 2015 is expected to draw 150,000 people to participate in the plethora of events surrounding the full-marathon. Additional sports events include a half-marathon, 10km and 5km races and a hand-cycle race.