Pentagon Responds as Iranian Warships Seize Cargo Ship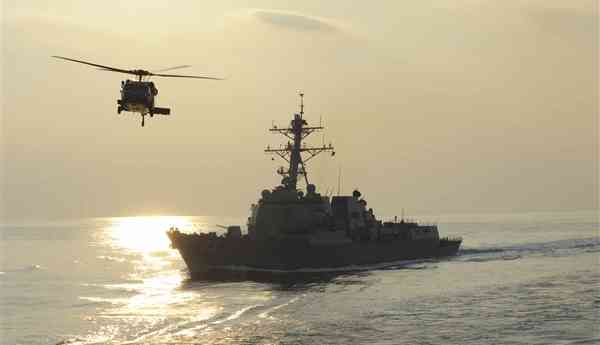 Danish shipping company Maersk said today its crew on the container ship Maersk Tigris seized by Iran is safe. "Maersk pleased to learn that the crew is safe," the company said in its tweet.
Maersk Tigris is managed by Rickmers Shipmanagement but on hire to Maersk Line, the shipping division of Maersk, a leading container shipping firm.
As the tension is mounting about the safety of the crew, Maersk tweeted "it is in close dialogue with Rickmers to explore options to help resolve this situation."
Meanwhile, according to Pentagon, U.S. Naval Forces Central Command in Bahrain had answered a distress call Tuesday issued by the Maersk Tigris container ship, after an Iranian Navy ship fired shots across its bridge and Iranian personnel boarded the commercial vessel.
[ Also Read: Plan to Prevent Iran from Getting a Nuclear Weapon ]
Army Col. Steve Warren had told members of the Pentagon press corps that at about 2:05 a.m. Eastern Time, several Iranian Revolutionary Guard Corps Navy, or IRGCN, patrol vessels approached the M/V Maersk Tigris, a Marshall Islands-flagged cargo vessel.
The commercial ship was in Iranian territorial waters transiting inbound, or north, in the Strait of Hormuz, between the Persian Gulf and the Gulf of Oman in the Arabian Sea. It is one of the world's major strategic choke points, according to the U.S. Energy Information Administration.
Maersk is a Danish company, but the Maersk Tigris was sailing under a Marshall Islands flag.
The Republic of the Marshall Islands is a sovereign nation for which the United States has full authority and responsibility for security and defense under the terms of an amended compact that entered into force in 2004.
The United States and the Marshall Islands have full diplomatic relations, according to the U.S. State Department.
The Pentagon spokesman said the Strait of Hormuz is in Iranian territorial waters, which is within 12 miles of the Iranian coast.
But, he said, because the narrow strait is recognized as containing international shipping lanes, the principle of "innocent passage" is applied, so ships that abide by international rules of the sea are authorized to pass through the strait.
Warren said that there are no Americans among the 30 or so people aboard the Maersk Tigris.
Photo courtesy: U.S. Navy