Pizza Hut Opens First Restaurant in Africa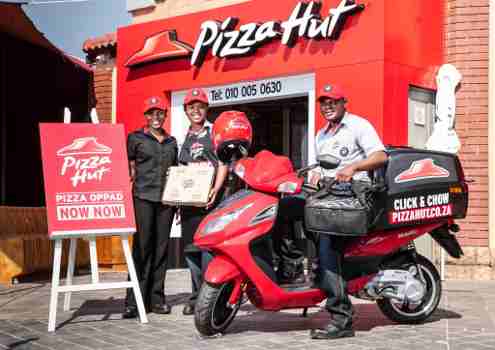 Pizza Hut, a division of Yum! Brands (NYSE: YUM), announced Wednesday the opening of its first restaurant in Africa. The introduction of Pizza Hut on the Continent reflects the company's expansion in emerging markets.
"Africa is an emerging continent with more than 1 billion people and endless possibilities for us to grow Pizza Hut over the long-term," said Scott Bergren, CEO, Pizza Hut and chief innovation officer, Yum! Brands.
The new Pizza Hut is located in Johannesburg, South Africa. The restaurant features a modern design, digital menu boards and free Wi-Fi as well as online ordering and delivery.
In addition to Pizza Hut's international favorites, the menu features popular items that appeal to local taste preferences with toppings like Boerewors sausage and pizza made with Peri-Peri sauce.
Pizza Hut plans to open more restaurants in South Africa in 2014 which will create approximately 200 local jobs. Over the next three years, the company expects to open dozens of stores in the country, employing more than 2,500 people.
Pizza Hut is the world's leading pizza chain with $12 billion in global sales and more than 15,000 restaurants in 93 countries worldwide, according to the company.