PM Modi May Be a Thief, But He Can't Be Jailed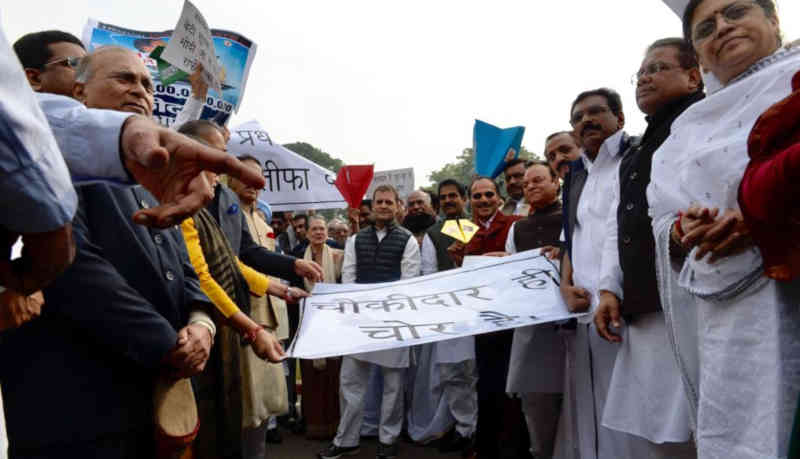 Congress and others who struggled to know the truth behind the Rafale deal found that all the administrative and judicial doors were closed for them.
By Rakesh Raman
You can't stop Congress president Rahul Gandhi if he wants to live in a fool's paradise. He has been accusing Prime Minister (PM) Narendra Modi of Rafale scam for about a year and has also predicted that Modi will be jailed.
However, after running from pillar to post to get Modi indicted, Rahul Gandhi could not do even a sliver of harm to Modi or his friends accused in the Rafale scam, which is believed to be the biggest financial scandal in the world.
On Tuesday (February 12), the Congress president also claimed that Modi has violated Official Secrets Act and compromised national security by revealing the Rafale deal details to his businessman friend Anil Ambani who – it is claimed – has shared the booty in the Rafale deal. Modi's act is also being compared to treason.
"Modi is under oath to protect secrets. He has given these secrets to Anil Ambani who knew about the biggest defence deal in the world 10 days before. This itself is criminal. This itself will put the Prime Minister in jail," Rahul Gandhi asserted.
In order to highlight Rafale corruption, on Wednesday (February 13) former PM Dr. Manmohan Singh, UPA chairperson Ms Sonia Gandhi, Rahul Gandhi, and other Congress leaders held a protest in Parliament against PM Modi's alleged involvement in Rafale fraud.
But can all these protests get Modi jailed? No way. Congress and other Modi opponents have explored all the legal as well as administrative options in India to get the truth of Rafale scam revealed to the people.
However, Modi and his political friends have responded aggressively to all the questions raised in the Rafale scam, although their response has never been credible. When Congress leaders start asking details of the deal, Modi and other politicians in his party BJP start complaining about Congress corruption and Congress dynasty.
Other Modi opponents – including former Indian ministers Yashwant Sinha and Arun Shourie, and lawyer-activist Prashant Bhushan – filed a complaint with the Central Bureau of Investigation (CBI), urging the agency to register FIR against Modi and a former defence minister in Modi government Manohar Parrikar. But Modi got CBI director removed surreptitiously from his position.
When the Rafale case went to the Supreme Court, the court – for shaky reasons – refused to entertain it. The Comptroller and Auditor General (CAG) of India – the top auditor of government accounts – failed to reveal financial faults in the deal. The Central Vigilance Commission (CVC) – an anti-corruption body which works tightly under the control of Modi government – also could not handle Rafale case against Modi.
In short, Congress and others who struggled to know the truth behind the Rafale deal found that all the administrative and judicial doors were closed for them. While others have given up, Congress president is now the lone rebel who is trying to manufacture new stories which have no audience.
The controversial decision to purchase Rafale aircraft from Dassault Aviation was taken in 2015. But still Modi and his friends could not be indicted, let alone jailed.
Parliamentary Dictatorship
A relatively new politician Rahul Gandhi has failed to realize that India is not a democratic country. Rather, it is a parliamentary dictatorship where all the four pillars of democracy – executive, judiciary, media, and legislature – have collapsed. And Congress – which ruled India for nearly 50 years of India's 70 years of independence – is largely responsible for this collapse of democracy.
As it has always been happening, now Modi is sitting like a dictator after winning just about 30% votes by fair means or foul in the 2014 Lok Sabha election. Mostly poor and uneducated voters – who can be bribed or cheated by politicians with their false slogans – vote in Indian elections. Thus, Modi has become the PM and now he is exploiting all the institutions for his advantage and no one in police or judiciary can dare to go against Modi's diktats.
Then how will Rahul Gandhi get Modi imprisoned? He can't. Congress president should realize that Indian judiciary and law-enforcement agencies are not working freely as they work in true democracies such as Pakistan or the U.S.
In Pakistan, for example, Prime Minister Nawaz Sharif was disqualified by Pakistan's apex court in the Panama Papers case. And later he was sentenced to 7 years' imprisonment by an anti-corruption court because judiciary is independent in Pakistan.
Similarly, in the U.S., special counsel Robert Mueller appointed jointly by the Republicans and the Democrats is investigating the shady deals of the sitting President Donald Trump. He has even interrogated Trump who has answered specific questions asked as part of the probe.
Currently, Mueller is leading a judicial team to know the extent of Trump-Russia ties that allegedly helped Trump win the 2016 presidential race. He has already indicted or jailed a number of Trump associates while Trump is also being asked again to sit for a face-to-face interrogation with Mueller and his team. Even Trump's party colleagues support Mueller investigation against Trump.
But such honest judicial and law-enforcement systems do not exist in India. So, Modi can't even be questioned properly while Rahul Gandhi is suggesting a jail term for him.
Rampant Corruption
Rafale deal is not the only case in which Modi is allegedly involved. A website under the "Corrupt Modi" title reveals the corruption cases of Modi and his friends as well as colleagues. The website reveals the scams under Modi government for each letter of alphabet (A-Z).
Among the BJP leaders and Modi's friends who are facing serious corruption allegations include:
BJP President Amit Shah,
Foreign Affairs Minister Sushma Swaraj,
Finance Minister Arun Jaitley,
Former Rajasthan Chief Minsiter Vasundhara Raje,
Former Madhya Pradesh Chief Minister Shivraj Singh Chouhan, and
Former Gujarat Chief Minister Anandiben Patel.
The other cases of corruption include mining scam, Goa housing loan scam, M.P. admission scam, fake currency scam, LED bulbs scam, and others.
But the Modi government did not hold any proper inquiry in all these cases and these politicians are having a ball with public money. Obviously, if thieves are the rulers, who will catch and punish them?
Rahul Gandhi is desperate to get Modi jailed. But when he could not touch even Modi's juniors listed above, he can't harm Modi.
"You are corrupt, you are a liar, and you committed treason to help your friend. The people of India are not going to stay silent like you do," Rahul Gandhi tells Modi with the hashtag #ChowkidarChorHai (the country's guard is a thief).
The Congress president will keep screaming, but Modi's focus is on electronic voting machines (EVMs) and the Lok Sabha election which is scheduled to happen after a few months. After all, Modi has to win the coming election.
And Modi is expected to win and become PM again. Then there is a possibility that as part of Modi's purge Rahul Gandhi or others who are shouting about Rafale scam will be in jail.
By Rakesh Raman, who is a national award-winning journalist and social activist. He is the founder of a humanitarian organization RMN Foundation which is working in diverse areas to help the disadvantaged and distressed people in the society. He also creates and publishes a number of digital publications on different subjects.
Support RMN News Service for Independent Fearless Journalism
In today's media world controlled by corporates and politicians, it is extremely difficult for independent editorial voices to survive. Raman Media Network (RMN) News Service has been maintaining editorial freedom and offering objective content for the past more than 12 years despite enormous pressures and extreme threats. In order to serve you fearlessly in this cut-throat world, RMN News Service urges you to support us financially with your donations. You may please click here and choose the amount that you want to donate. Thank You. Rakesh Raman, Editor, RMN News Service.