Pope Francis Working to Increase Education Opportunities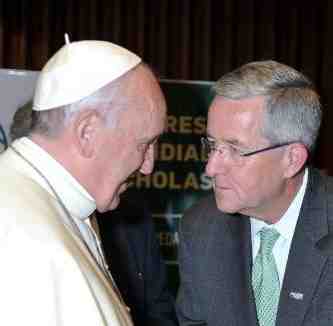 United Way Worldwide signs a Memorandum of Understanding with Scholas Occurentes, an initiative started by Pope Francis to improve education by integrating communities around the world through shared purpose and goals. United Way made this announcement today, Sept. 11.
The partnership seeks to create education opportunities for all people and will focus on connecting teachers, schools, and other stakeholders to build relationships and share best practices.
---
Related Stories:
Meet the Uneducated Education Minister of India
Survey Reveals the State of Indian Education
---
Scholas Occurentes seeks to transform the world into a more integrated and peaceful society, through improved education and the integration of different communities, with a special focus on people with fewer resources.
This is through the commitment of all stakeholders and the linking of schools and educational networks from all over the world, and by means of educational, artistic and sports initiatives.
United Way is a privately funded nonprofit. It is working in nearly 1,800 communities across 41 countries and territories to create community solutions that improve life for everyone.
In the picture above: United Way Worldwide CEO Brian A. Gallagher speaks with Pope Francis at the Vatican during the signing of the Memorandum of Understanding.