President Obama Makes a Surprise Trip in Afghanistan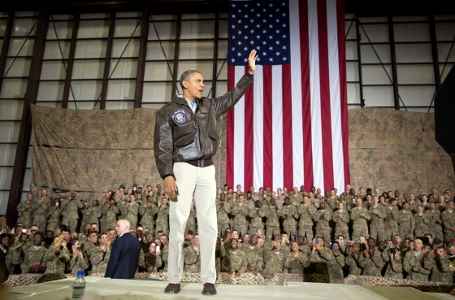 President Barack Obama participated in a rally for American troops at Bagram Airfield in Bagram, Afghanistan on Sunday, May 25.
According to a White House statement, President Obama visited Afghanistan to thank the American troops and civilians stationed there for their service.
Following an opening performance by Brad Paisley, the President addressed about 3,000 troops in a hangar on the base, it was stated.
He let them know that he was there "on a single mission" — and that was to say thank you.
"I thank you as your Commander-in-Chief because you inspire me," the President said. "Your willingness to serve, to step forward at a time of war, and say 'send me,' is the reason the United States stays strong and free. Of all the honors that I have serving as President, nothing matches serving as your Commander-in-Chief."
The President went on to say that, after more than a decade of war, we're at a "pivotal moment" in Afghanistan.
Photo courtesy: White House / Photo by Pete Souza