Raytheon Unveils Extended Range Air to Air Missile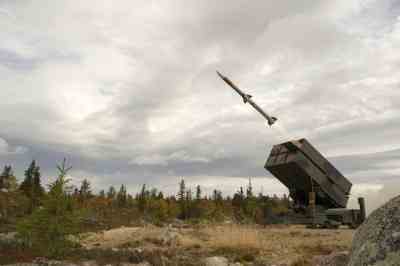 Raytheon Company (NYSE: RTN) has begun development on an extended range (ER) variant of the Advanced Medium Range Air to Air Missile (AMRAAM). Designed specifically for ground-based air defense, AMRAAM-ER will enable intercepts at longer range and higher altitudes.
"With AMRAAM-ER, Raytheon is rewriting the book on ground-based air defense. The new missile will be even faster and more maneuverable than the current AMRAAM," said Mike Jarrett, Raytheon vice president of Air Warfare Systems. "By leveraging many existing AMRAAM components, Raytheon can deliver AMRAAM-ER quickly and affordably with very low risk."
Raytheon will integrate AMRAAM-ER into the NASAMS launcher.

NASAMS is stated to be the latest and most modern Medium Range Air Defense system. In partnership with KONGSBERG, Raytheon has delivered more than 70 fire units to seven countries. According to Raytheon, it is the most commonly used Short and Medium Range Air Defense System in NATO.
Fielded in Norway for more than a decade, NASAMS is operationally deployed in the U.S. National Capital Region, Spain, Finland, the Netherlands, and an undisclosed country. It is also in production for Oman under a contract received last year.
Raytheon plans to flight test AMRAAM-ER before the end of the year.
Raytheon Company is a technology company specializing in defense, security and civil markets throughout the world. Raytheon is headquartered in Waltham, Mass.