RMN Company Releases ROBOJIT Poster
Raman Media Network (RMN) Company – a leading integrated technology media company – recently announced the launch of its global entertainment project: "Robojit and the Sand Planet."
It is an integrated entertainment project for a Hollywood movie, a digital video game, animation film, TV series, Web series, and a comic book.
Today, May 8, the company has released the first raw poster of the project. The poster carries an illustration of the superhero ROBOJIT in the character's full frontal profile. Among other features, ROBOJIT, who is a humanoid in the story, is identified with a mirrored "R" on his chest.
The text on the poster reads:
He won't crawl on the wall and he won't fly in the sky – because ROBOJIT is different and more powerful than others. Here he comes to meet you all.
R A K E S H  R A M A N
PRESENTS
ROBOJIT AND THE SAND PLANET
THE STORY OF THE FUTURE UNIVERSE
THE GLOBAL ENTERTAINMENT PHENOMENON
FROM RMN ENTERTAINMENT – THE ENTERTAINMENT CONTENT ARM OF RMN COMPANY
COMING SOON ON SCREENS NEAR YOU
www.robojitandthesandplanet.com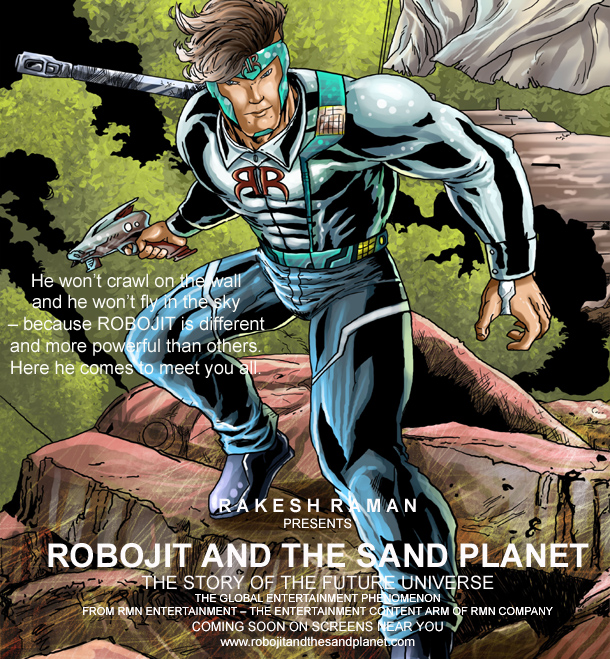 "The Robojit story is highly entertaining, as it's full of thrill, adventure, excitement, and timely use of humor," says Rakesh Raman, CEO of RMN Company, who has also written the story and driving the project at the global scale. "It is a work of fiction in the genre of adventure for young people and will entertain children and young adults across the world."
[
Also Read
:
RMN Company Launches Multimedia Entertainment Project
]
Based in New Delhi, India, Raman Media Network (RMN) Company is a leading integrated technology media company specializing in emerging technologies and new-media platforms. It is working in diversified content creation, management, and distribution businesses on a global scale. For more information, visit: http://www.rmncompany.com/