Rs. 50,000 Crore Investment Planned to Build Bridges in India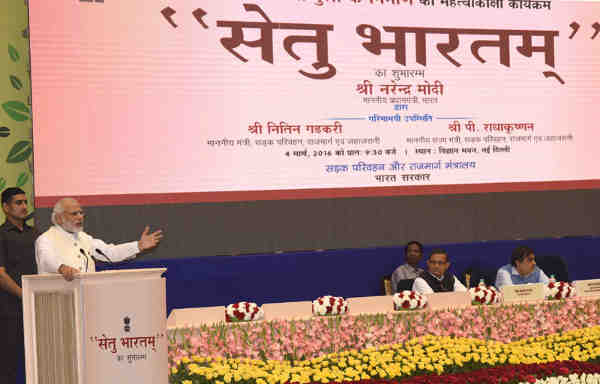 The Prime Minister of India, Narendra Modi, launched Friday "Setu Bharatam" – an ambitious programme with an investment of Rs. 50,000 crore to build bridges for safe and seamless travel on National Highways.
The programme aims at making all national highways Railway Level Crossing free by 2019.
According to a government statement, 208 new "road over bridges / road under bridges" are envisaged for construction, while 1500 bridges will be widened, rehabilitated or replaced.
Speaking on the occasion, the Prime Minister said that the Union Government wishes to make a quantum jump in this direction.
[ Can Kanhaiya Kumar Achieve Social Democracy for India? ]
Emphasizing the importance of good infrastructure for the development of the country, he said the importance of roads for a nation, is the same as the importance of arteries and veins in the human body.
The Prime Minister spoke of the Government's initiatives in other infrastructure sectors as well, including railways, irrigation, and digital connectivity.
Photo courtesy: Press Information Bureau