Russia Honors Gold Medal Winners of 2016 Olympics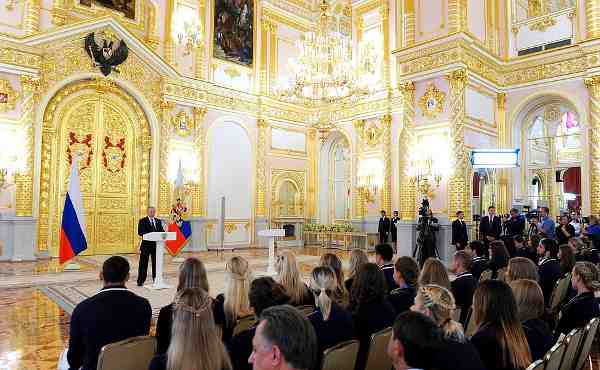 The President of Russia, Vladimir Putin, presented state awards to the Russian athletes who won gold medals at the 2016 Olympic Games in Rio de Janeiro (Brazil).
Russia's national team took fourth place in the medals table with 56 medals in total: 19 gold, 18 silver, and 19 bronze.
"We will have a thorough consideration of the results at Rio de Janeiro and our further plans at the next Sports Council meeting, but I can already tell you now that we will definitely help our athletes to create the necessary conditions for your successful training and further successful performances," Putin said.
[ India to Set Up Task Force for Future Olympic Games ]
Russia has created an Olympic Athletes' Support Fund to help its athletes. Putin said Thursday that this year the Fund will provide special encouragement to the country's best track and field athletes, who were deprived of the chance to compete in the Olympics.
Earlier in the day, Presidential Aide Igor Levitin and Sports Minister Vitaly Mutko presented state awards to athletes who won silver and bronze medals at the Rio de Janeiro Olympics.
Photo courtesy: Kremlin