Russia to Offer Solution for Syrian Conflict Settlement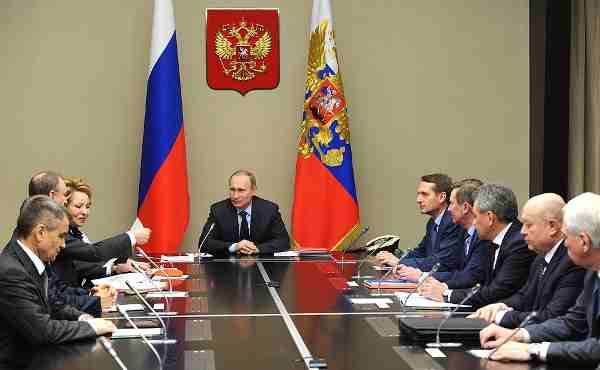 President of Russia Vladimir Putin held a briefing session Friday with the permanent members of the Security Council.
According to a statement issued by Kremlin, the participants discussed ways to cut off sources of terrorist funding in light of the relevant resolution adopted by the UN Security Council.
The participants exchanged views on Syrian conflict settlement, particularly in view of the talks on the subject held Friday in New York, where Russia was represented by its Foreign Minister Sergei Lavrov.
[ Can the New U.S. Strategy Combat Terrorist Threats? ]
The CSTO agenda was discussed in detail in the context of the CSTO Collective Security Council meeting scheduled to take place in Moscow on Monday.
Current issues on the socioeconomic agenda, including the prospects of changes in the global energy markets were also discussed, according to Kremlin.
Taking part in the meeting were Federation Council Speaker Valentina Matviyenko, State Duma Speaker Sergei Naryshkin, Chief of Staff of the Presidential Executive Office Sergei Ivanov, Secretary of the Security Council Nikolai Patrushev, Defence Minister Sergei Shoigu, Director of the Federal Security Service Alexander Bortnikov, Director of the Foreign Intelligence Service Mikhail Fradkov, Deputy Secretary of the Security Council Rashid Nurgaliyev, and permanent member of the Security Council Boris Gryzlov.
Photo courtesy: Kremlin