Samsung Curved UHD TV Delivers Cinematic Experience at Home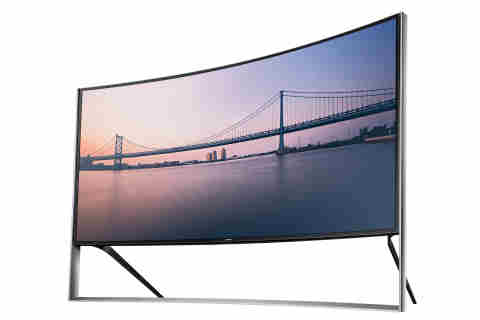 Samsung Electronics America, Inc. announced Tuesday the availability of its 105" Curved UHD TV (model number: UN105S9W).
It features 105" screen that not only envelops viewers with an immersive curved design but also provides a movie-theater experience at home.
"We continue to set the bar as the UHD market leader by delivering the best picture quality, design and most immersive viewing experiences in home entertainment," said Joe Stinziano, executive VP, Samsung Electronics America.
"The introduction and availability of our new 105" Curved UHD TV represents our unremitting efforts to reshape TV, driven by consumers' passion for entertainment. Made for the premium entertainment lover, the 105" Curved UHD TV features the most advanced technology and design, a massive movie-theater style UHD screen and a curve that creates the ultimate cinematic experience."
Each unit is built to order for $119,999 and is available for order this week. For owners of the 105" Curved UHD TV, Samsung will offer its "Samsung Elite Service," where customers can receive an in-home visit by Samsung Field Engineers who will explain the features of the TV and optimize it for their viewing environment.