Savor: An American Craft Beer & Food Experience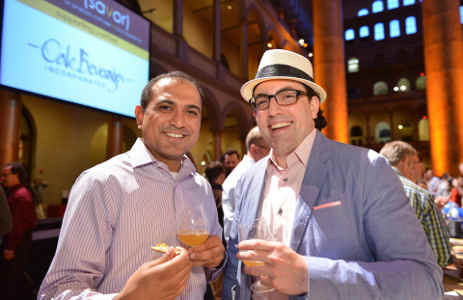 Given its expansive variety of styles, flavors and components, craft beer is among the most approachable beverages to pair with food.
This was on display at the seventh annual Savor: An American Craft Beer & Food Experience held at the National Building Museum in Washington, D.C. on May 9 and 10.
Presented by the Brewers Association (BA), Savor is said to be the nation's marquee craft beer and food pairing event.
Over the course of two nights, 4,000 attendees sampled a selection of craft beers from 76 small and independent brewers, paired with a menu designed by BA culinary consultants Chefs Adam Dulye and Kyle Mendenhall. Attendees were personally served by the faces behind the brands.
"Craft beer has evolved the food arts world and Savor is the perfect platform to portray this evolution," said Julia Herz, craft beer program director for the Brewers Association.
"As the beer culture in America continues to advance, U.S. foodies and beer lovers alike are thirsty for the pairing experience that Savor delivers."
All food items presented at this year's Savor were locally sourced, supporting natural, small and independent farms and ranches as much as possible.
All of the proteins and seafood used in the menu were from small and independent ranches, farms and fish mongers that support sustainability.
All produce came from natural or organic farms. Not a single ingredient on the food menu was from any land that uses or promotes the use of GMOs or pesticides, according to the event organizers.
Additional event details can be found on the Savor website.
The Brewers Association is a not-for-profit trade association dedicated to small and independent American brewers, their beers and the community of brewing enthusiasts.