Shah Rukh Khan to Promote Hyundai's CSR Initiatives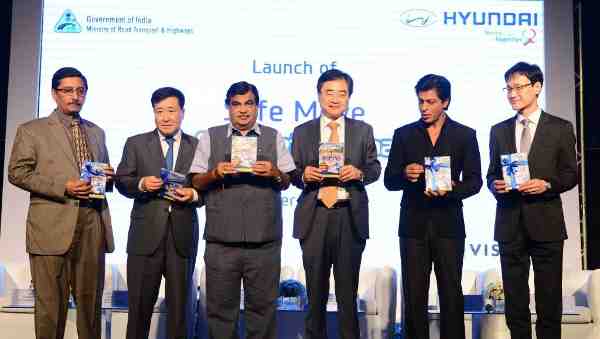 Hyundai Motor India Ltd, the country's leading car manufacturer, launched Monday its CSR (Corporate Social Responsibility) initiative 'Safe Move – Traffic Safety Campaign' in association with Ministry of Road Transport and Highways.
With "Safe Move," Hyundai says it will promote the best practices of road and traffic safety habits among children.
Bollywood actor Shah Rukh Khan will participate in Hyundai's CSR initiatives as Hyundai's Corporate Brand Ambassador.
The Safe Move official Traffic Safety Campaign educates the children on the Traffic Safety. This initiative will have both online and offline engagement channels.
[ How India Abuses Children's Right to Education ]
Special school contact and RWA (Residential Welfare Association) programs have been designed to reach out and spread the Traffic Safety message across multiple cities in India.
The school and RWA contact program will be initially activated in 5 major cities – Delhi, Mumbai, Chennai, Kolkata, and Ahmedabad.
'Kids Hyundai,' a specially designed website for children on Traffic Safety is developed. The Kids website will serve as an exclusive outpost for the "Safe Move" program.
It will carry news, animation episodes, online engagements, car production, car history and evolution related content and registration for various programs under the initiative.
In the picture above: At the launch of Hyundai 'Safe Move- Traffic safety campaign' Left to Right: Vijay Chhibber Secretary Ministry of Road transport & Highways; Y K KOO Managing Director Hyundai Motor India Ltd; Nitin Gadkari Minister for Road transport & Highways and Shipping; Hyun Cho Ambassador of Republic of Korea; Hyundai Corporate Brand Ambassador Shah Rukh Khan; and Dong Woo Lee CEO ROI Visual