Shania Twain Debuts Shania: Still The One
Recently welcomed to Las Vegas in an historic fashion by riding up the famed Las Vegas Strip on horseback and greeting her fans at the Caesars Palace fountains, Shania Twain proved she truly is "Still The One" during her debut performance of the "Shania: Still The One" at The Colosseum at Caesars Palace.
The new show kicked-off on Dec. 1 and marked the beginning of her two-year residency at the venue. Fresh off the heels of a first run of performances, an additional 12 shows scheduled between May 14 and June 1, 2013 will be on-sale as of Friday, Dec. 14 at 10 a.m. (PST).
Developed by Show Creator and Executive Producer Shania Twain – one of the world's best-selling female artists of all time – Shania: Still The One is a concert celebration that takes fans on a spectacular journey through the various stages of Shania's life and career in an unforgettable evening filled with music, multi-sensory experiences, fashion and a few unexpected surprises.
Produced by AEG Live and directed by Raj Kapoor the show also features creative expertise from Production Designer Michael Cotten, Costumier Marc Bouwer and Lighting Designer Peter Morse to add to Shania's vision of Shania: Still The One.
The production is a compilation of Shania's hits including "Man! I Feel Like A Woman!," "You're Still The One," and "That Don't Impress Me Much," and features a 13-piece band and four male dancers.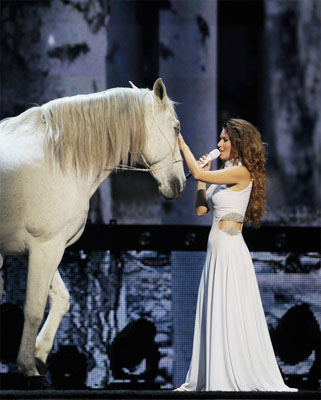 The show's choreographer, Emmy-nominated Mandy Moore, is a featured choreographer in the television program "So You Think You Can Dance."
Shania: Still The One is designed to give audiences that intimate, only in Las Vegas concert experience – with no fan more than 120 feet from the stage.
The high-tech production incorporates some unexpected surprises including multi-scent show projectors, a new 4D multisensory technology.
Shania Twain is a five-time Grammy Award-winning artist.
Photo courtesy: The Colosseum at Caesars Palace / Denise Truscello