Songbird Stamps Take Flight Through the U.S. Mail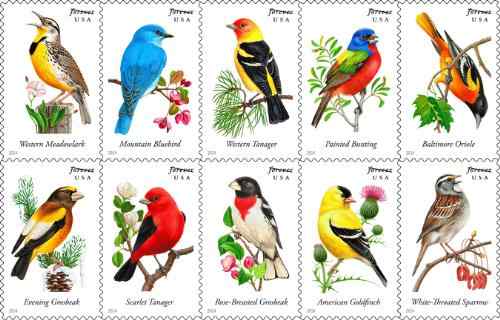 U.S. Postal Service issues 10 colorful Songbirds Forever Stamps. The dedication ceremony takes place at 10:30 a.m. today in Dallas at the Trinity River Audubon Center, 6500 Great Trinity Forest Way (formerly South Loop 12).
The stamps depict: the western meadowlark (Sturnella neglecta), the mountain bluebird (Sialia currucoides), the western tanager (Piranga ludoviciana), the painted bunting (Passerina ciris), the Baltimore oriole (Icterus galbula), the evening grosbeak (Coccothraustes vespertinus), the scarlet tanager (Piranga olivacea), the rose-breasted grosbeak (Pheucticus ludovicianus), the American goldfinch (Spinus tristis) and the white-throated sparrow (Zonotrichia albicollis).
"Songbirds have been singing and delighting humans for thousands of years, so it's only fitting that today they receive their own postage stamps," said U.S. Postal Service Southern Area VP Jo Ann Feindt, who will dedicate the stamps.
"As you celebrate all of the upcoming events of spring — Mother's Day, Father's Day, graduations and weddings, or whatever the occasion, remember the Songbirds stamps."
Illustrator Robert Giusti of Bridgewater, CT, depicted each bird perching on a fence post or branch embellished with vines, pinecones, leaves or flowers.
The paintings appear against a plain, white background. Art director Derry Noyes of Washington, DC, designed the stamps.
Customers may purchase the Songbirds Forever Stamps in booklets of 20 at usps.com/stamps, at Post Offices, or at ebay.com/stamps.
Between 4,000 and 4,500 different types of songbirds can be found around the planet, accounting for nearly half of all bird species. Songbirds are identified by their highly developed vocal organs.
Some songbirds, like the crow, have harsh voices, others sing rarely or not at all. All songbirds are classified as perching birds. With three toes pointing forward and one pointing backwards, they can grip branches and grasses with ease.