Syrian Kurds Claim Victory Against ISIS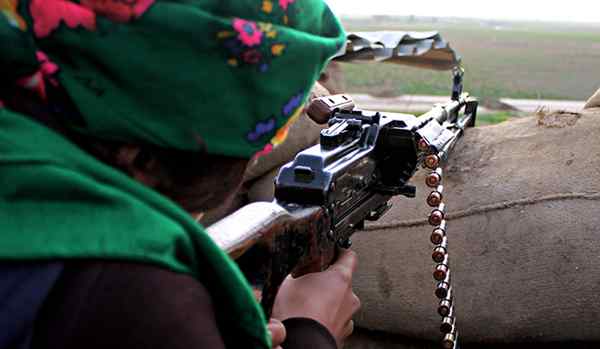 The People's Defense Units (a.k.a. Yekîneyên Parastina Gel or YPG), which is the national army of Syrian Kurdistan, claims that at the initial stage of victory, the resistance against terrorist attacks of Daesh (a.k.a Islaim State of Iraq and Syria or ISIS) in Kobanê (Kobani) has crossed over 150 days.
Last month, YPG had declared that it has taken back the Syrian city of Kobani from the Sunni extremist group ISIS after nearly four months of fighting.
Continuing their operations under the Campaign Kobanê Liberation, members of YPG and Women's Defense Units (YPJ) claimed on Sunday that they have managed to liberate a number of villages and strategic points from terrorist groups around Kobanê.
[ FBI's New Most Wanted Terrorist: Liban Haji Mohamed ]
"Our combatants who are consistently struggling against terrorist forces of Daesh, have been able to inflict severe blows to terrorist fighters during operations conducted last night in Kobanê," said YPG.
In east Kobanê, according to YPG, a strategic terrorist-occupied hill was targeted and heavy clashes were experienced around the target overlooking Bexdikê village. In this battle terrorist fighters suffered heavy casualties, and the hill was eventually controlled and secured by our units, claims YPG.
[ What Did ISIS Hostage Kayla Mueller Say Before Her Death? ]
According to the information obtained from the battlefield, 23 terrorist members were confirmed killed during the fight in this area, said YPG, adding that another confrontation was experienced between its units and terrorist groups in southwest Kobanê where 9 terrorist fighters were confirmed killed.
"During the operations and clashes that our units were involved in the past 24 hours, four of our comrades who selflessly conducted a heroic battle, were martyred in action. Six of our comrades were injured during the operations," said YPG.
Photo courtesy: YPG
This article is part of our editorial section
Wars and Conflicts
that carries related news and views from all parts of the world.